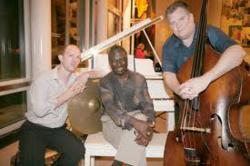 A band that has it's own sound James Stapleton The Sounds of Jazz KNON 89.3 FM
Dallas texas (PRWEB) February 15, 2013
This is the first time a that a jazz band has performed in this part of town since the "Jazz Connection" a club which was located across the street that offered live jazz and sold jazz memorabilia and jazz recordings closed in the late 1990's.
Since then the neighborhood has evolved upscale with smart retail shops and trendy restaurants. The Inwood Lounge is located in at 5458 Lovers Lane ave. inside the lobby of the historic Inwood Theater. Right on the edge of University Park.
It's an ideal setting for listening to jazz. The acoustics are ideal and there is plenty of parking. And one could say that it's a slightly upscale bar with a neighborhood vibe.
Friday February 8th was the John A Lewis Trio's first performance at the Inwood Lounge,and it was a delight.
The trio consists of pianist /composer John A Lewis, bass Jeff Pickering (who was subbing for regular bassist Lincoln Apeland ) and drummer Merik Gillett. The trio performed two one hour sets. The music which was mostly upbeat consisted of blues, latin and bossa grooves, show tunes with a fresh twist and originals composed by leader and pianist John A Lewis. Although the music was upbeat it was not over powering. One could carry on a conversation with out any effort. One of the high points of the evening was the performance of a John A Lewis original with an extended but tasteful solo by drummer Merik Gillett. Throughout the evening the audience rendered generous applause between each tune. It was a terrific evening for jazz.
The Trio will be performing at the Inwood Lounge throughout the month of February.
Check it out.