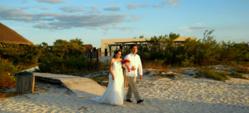 Our wedding was unique, beautiful, and unforgettable. We would choose Hotel Xixim all over again. (Sol Cantillo 12/12/12)
Celestun, Yucatan, Mexico (PRWEB) February 13, 2013
For many, the month of February means thinking of loved ones and, for many couples, making plans to marry. Today, nearly 25% of all engaged American couples are marrying away from their hometowns – many in neighboring tropical Mexico. Hotel Xixim, a unique Mayan Hotel located on the white sand beaches of Yucatan's western coast, offers three all-inclusive destination-wedding packages at an incomparable venue. The advantages of a destination wedding in the western Yucatan area are particularly significant when family and friends travel from different parts of the U.S. The historic city of Merida, Yucatan, the gateway to the less crowded western Yucatan beaches, is just a one-hour flight south of Houston, Texas. Hotel Xixim is a one-hour drive west from Merida.
Located inside the Celestun Biosphere Reserve, the hotel grounds are part of a natural protected area and avian sanctuary. Here, a couple can exchange vows under a year-round cerulean sky, adjacent to the turquoise sea, on an endless white sand beach full of opalescent seashells. Couples and their wedding guests are quietly discovering the tranquility of Hotel Xixim, and the lesser-known beaches of the western Yucatan coast. While the eastern Yucatan Peninsula from Cancun south to Tulum has attracted tourists with large hotels, cruise ships docks, and shopping centers, the western Yucatan beaches remain a quiet symphony of nature: waves, shorebirds, doves, the rustling of vegetation, and the occasional small panga from Celestun fishing village six miles south.
Couples wishing to tie the knot at the intimate 32 bungalow Hotel Xixim can choose among three customized destination weddings: civil ceremony, Mayan ceremony, or a combined civil and Mayan ceremony. Onsite venues for receptions, banquets, and other social activities include two poolside terraces, the restaurant patio, the indoor Restaurante Zaxim, El Santuario Bar, and of course the white sand beach in front of the hotel at any time of the day or evening.
Hotel Xixim's concierge type service makes planning a Yucatan, Mexico, wedding easy. Besides help with the ceremony details from start to finish, the on-site wedding coordinator will also provide information and assist with all pre-wedding requirements for a civil wedding in Mexico -- the legally recognized part of the marriage. Wedding package prices are $2,600 USD per package per couple for the civil ceremony, $3,350 USD for the Mayan ceremony, and $3,850 USD for the civil and Mayan ceremony together. However, the hotel offers these wedding packages complimentary if the bride and groom book a minimum number of room nights and banquet dinners for their wedding guests. Detailed information about Hotel Xixim's three all-inclusive beach wedding packages is available at http://hotelxixim.com/bodas.php.
For guests wishing to stay at Hotel Xixim for the wedding festivities, discounted group rates start with a minimum of 5 individual bungalows booked. Wedding group package rates include accommodations in an individual Mayan bungalow suite, all meals, non-alcoholic beverages, all tips and taxes, use of kayaks and bicycles, as well as discounts on optional SPA services and area excursions. Round trip transfers from the Merida International airport direct to the hotel can also be included. To create a custom package for wedding group guests, contact groups(at)hotelxixim(dot)com or use this link to obtain a group quote.
About Hotel Xixim
Hotel Xixim, located one hour west of the city of Merida in the Celestun Biosphere Reserve on the western Yucatan Peninsula, welcomes individuals, couples, families and groups. The hotel offers 32 individual Mayan bungalow suites nestled in tropical vegetation on three miles of pristine white sand beaches. Opened in 1996 and expanded in 2010, this unique Mayan hotel provides special group rates for weddings, yoga and wellness group retreats, family reunions and events, eco-adventure and birding groups, Mayan culture and archeological tours, and business meetings. A new Wellness Center includes a large group pavilion for yoga and other activities, a Wellness pool, juice therapy bungalow, and SPA. Earlier in 2012, Hotel Xixim received the Certificate of Excellence from TripAdvisor, awarded for consistently outstanding traveler reviews to only ten percent of accommodations listed on this review site. The editors of Fodor's, a leading name in travel guides for over 75 years, also selected Hotel Xixim for their "2012 Fodor's Choice" award, given to only the top 15% of their listed properties world-wide. Visit http://www.hotelxixim.com and for group rates, inquire at groups(at)hotelxixim(dot)com.