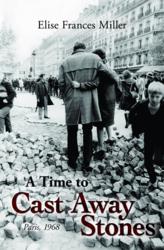 I'm thrilled that Kindleboards, Amazon and Sand Hill Review Press have agreed to make this available to the public."
San Mateo, California (PRWEB) February 15, 2013
In A Time to Cast Away Stones, Elise Frances Miller catapults the late 1960s beyond media stereotypes that have inflamed opinions of the era for decades. This powerful first novel tells the story of Janet Magill, a shy, straight-arrow Berkeley freshman with compelling reasons to join the antiwar movement. Janet's brother has been shipped off to Vietnam, and Aaron Becker, her childhood sweetheart, might well be next. When Janet's parents banish her from Berkeley to what they expect will be a safe, idyllic springtime in Paris she runs headlong into the 1968 May Revolution and along the way, falls in love with a secretive Czech dissident.
This novel brings to life the historical "Events of May," in which over ten million French citizens were involved in the only student-worker-bourgeois alliance and true "revolution" that a Western, capitalist democracy had ever experienced. Far from the distant and haunting City of Light, Aaron follows Janet's journey through an intense and embattled correspondence. He witnesses her wrenching, transformative exploration of her capacity for love, responsibility and sacrifice, then loses contact as her "safe" year abroad turns into a dangerous coming of age.
"I'm thrilled that Kindleboards, Amazon and Sand Hill Review Press have agreed to make my book available for free download," Miller said. "I can't believe all of the fan mail I'm getting, not only from people from my generation, ranging from former political activists to Vietnam vets, but also from children trying to learn more about their parents' times."
A Time to Cast Away Stones is available in paperback through Amazon, Diesel, Books Inc and Barnes & Noble; and in e-format through Kindle, Nook, Copia, Kobo, Diesl, and Sony Reader. The free download is only for Kindle and only February 16 and 17, 2013.
After the e-book giveaway on Kindle, A Time to Cast Away Stones will return to its regular price.