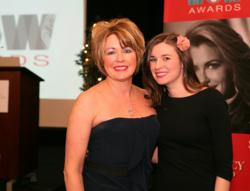 To be recognized by this outstanding organization, which is dedicated to developing leadership, and mentoring and networking opportunities for women who want to make a career in the furniture industry, is such a thrill
Charleston, WV (PRWEB) February 13, 2013
Today, Sleep Outfitters, Mattress Warehouse and Mattress King Stores announced that their CEO, Kim Brown Knopf, has received the Leadership award from WithIt, a leadership and networking organization for professional women in the furniture industry. The awards were presented in Las Vegas Jan. 27 at a gala at the SkyView Terrace of the World Market Center.
"I'm so honored to be the recipient of this year's WithIt Leadership Award," Knopf said. "To be recognized by this outstanding organization, which is dedicated to developing leadership, and mentoring and networking opportunities for women who want to make a career in the furniture industry, is such a thrill."
WithIt's WOW Awards is an industry-wide program dedicated to the specific accomplishments of women and the companies that support women in home and furnishings industries. WithIt created the Leadership Award to recognize the contributions of a woman over age 40 who has demonstrated successful leadership in her company.
"To quote Kim, 'For a company to succeed, it must have the best people and build an aligned team that sustain growth.' This is the foundation of her business philosophy, and it has clearly informed how she has lead Innovative Mattress Solutions to success," said Betty Lyn Eller, 2013 President, WITHIT. "It is important to Kim that she hire people who share her passion for helping people sleep and live better. She was one of the first female entrepreneurs to enter the male-dominated mattress specialty industry in the early 1980s. Since then, she and her team have continued to bring innovative thinking, professionalism and leadership to the industry. WITHIT applauds her continued commitment not just to her own leadership skills, but to building those of her employees as well."
About Sleep Outfitters, Mattress Warehouse, Mattress King and Innovative Mattress Solutions
The team at Sleep Outfitters, Mattress Warehouse and Mattress King, as part of the parent company Innovative Mattress Solutions based in Winfield, WV, believes a better night's sleep is the foundation of a healthy lifestyle. Their comfort promise helps customers rest easy, knowing they have 120 days to make a change if are not comfortable sleeping in their new bed.
For sleep tips, lifestyle motivation, and to learn about specials, visit and like Sleep Outfitters, Mattress Warehouse and Mattress King on Facebook and follow Kim Knopf's daughter, Karrie Knopf, at her Pillow Talk Blog. To learn more, visit their website.
Innovative Mattress Solutions operates nearly 150 sleep specialty retail mattress stores in six states, celebrating 30 years in business in 2013.