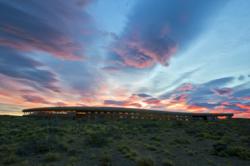 "Our intention was to create a space and aesthetic that connects guests emotionally to the unique surroundings and natural beauty of Patagonia, and our design team captured that with a dramatic and graceful viewpoint," Miguel Purcell, Tierra Patagonia
Santiago, Chile (PRWEB) February 15, 2013
Tierra Patagonia, located on the edge of Chile's Torres del Paine national park, is named Best Resort in the Travel + Leisure 2013 Design Awards, joining a prestigious group of winners in a range of categories. The award winners, announced in New York last week and currently featured on http://www.travelandleisure.com, are considered powerful examples of the ways in which good design makes better travel.
Blending traditional Patagonian hospitality with design inspired by the dramatic surroundings, Tierra Patagonia opened in December 2011 and possesses one of South America's most iconic hotel addresses. The 40-room resort – sister property to the award-winning Tierra Atacama – occupies a premier location on the shores of Lake Sarmiento, at the entrance to Torres del Paine National Park and UNESCO Biosphere Reserve, boasting stunning views of the legendary Paine Massif, one of the most photographed landmarks of the Patagonian region.
"We are delighted and honored for Tierra Patagonia to be recognized with this Travel + Leisure award," said Miguel Purcell, General Manager of Tierra Hotels. "Our intention was to create a space and aesthetic that connects guests emotionally to the unique surroundings and natural beauty of Patagonia, and our design team captured that with a dramatic and graceful viewpoint."
Tierra Hotels' owners brought together Chile's leading architects - Cazu Zegers, Roberto Benavente and Rodrigo Ferrer – to design the hotel to blend beautifully with the natural patterns and topography of its privileged location, aiming to minimize the impact on the land while maximizing the awe-inspiring setting. The result is a harmonious architectural dialog between the elements, landscape and culture.
Architect Cazu Zegers drew inspiration from years of travel to the region and her connection to the environment, from her first journey by motorbike in the 1970s to a recent water coloring trek. Zeger's concept for Tierra Patagonia was born from an ambition to find an architectural language that would translate the aesthetics of Chilean culture and give the structure relevance to its breathtaking location. The finished hotel rises from the shore of Lake Sarmiento at the foot of Torres del Paine National Park like a 200-foot-long sand dune, resembling forms drawn by the wind or "an old fossil, a prehistoric animal beached on the lake shore, like those studied by Charles Darwin," described Zegers.
This environmental relevance greatly influences the guest experience, starting with the journey and arrival to the hotel as the Torres del Paine peaks come into view. "On approach at a distance you see the peaks before you actually see the hotel; it's hidden within the landscape before it reveals itself," said Zegers.
While the architecture is meant to centerpiece the landmarks, Zegers built in comforts to make the hotel a "second skin," protecting guests from Patagonia's harsh elements without limiting their interaction with the mystic beauty of the place. All exterior materials were sourced from the area, including the stone that anchors the base of the hotel and sustainably grown washed Lenga wood paneling that gives the exteriors a weathered finish typical of old wooden houses that have been worn away by winter seasons.
The interiors, which offer guests sumptuous comfort with minimal detail, have been created by Chilean designers Alexandra Edwards and Carolina Delpiano, who also designed the award-winning spaces at Tierra Atacama. Edwards and Delpiano incorporate hand-crafted furnishings using natural Patagonian textiles, wools and trims, to evoke the surrounding environment with comfort and style. The interiors offer a sense of tranquility and solace from the extreme elements of the outdoors, for guests to relax and feel at home. Interiors are designed to be minimalistic, rather than stimulating.
When choosing an architect who echoed this philosophy, Purcell found Zegers to be the ideal partner. As the first female architect to receive the Great Latin America Architecture Prize at Bienal de Buenos Aires for her work on the Cala House (1993), Zeger leads her peers in returning to traditional design approaches and placing value on locally sourced materials. Her Tierra Patagonia design incorporates a "low-technology" ethos with high insulation, LED lighting, locally sourced materials, natural air conditioning and more. Zegers' use of local materials and textiles reflects an emerging consciousness within Chile to support indigenous artisans and culturally significant trades like the wool industry.
Purcell has a deep connection with the environment and is passionate about preserving special places for future generations. To achieve this, Tierra Hotels strives to establish eco-tourism as an economic driver for Chile, creating a future for the country rooted in sharing outdoor experiences that are also celebrated through design and hospitality. Tierra Atacama serves as a blueprint for Tierra Patagonia's sustainability efforts, and, in the initial design and construction phase, both hotels were built with the goal of providing the best adventure-spa experience with minimal disruption to the land, wildlife, history and local culture.
# # #
About Tierra Hotels
A unique portfolio of luxury hotels and resorts set in exceptional locations, Tierra Hotels were created by the Purcell family who has a long-established reputation for offering fine hospitality at Ski Portillo, Chile. Tierra Hotels are distinguished by a guest experience that delivers legendary South American hospitality as well as tailored adventure and cultural encounters that take place amidst innovative design and architecture, inspired by the natural surroundings and environment.
About Travel + Leisure 2013 Design Awards
A special Travel +Leisure 2013 Design Awards report is in the March issue of Travel + Leisure®, on newsstands February 15.
Travel + Leisure 2013 Design Awards Jury
Alexandra Champalimaud, interior designer and founder, Champalimaud
Amy Fine Collins, author and special correspondent, Vanity Fair
Deborah Berke, architect and founder, Deborah Berke Partners
John Robshaw, textile designer and founder, John Robshaw Textiles
Stephen Doyle, creative director, Doyle Partners
Rebecca Minkoff, fashion designer and creative director, Rebecca Minkoff
Marcus Samuelsson, chef, author, and restaurateur
Chee Pearlman, contributing design editor of Travel + Leisure, served as the jury moderator.
The Travel + Leisure 2013 Design Award winners and the T+L 2013 Design Champion will be celebrated at an event in Berlin on March 6th, 2013. Join in the T+L Design Awards conversation with a special live Twitter chat on March 6 from 2 – 3 pm EDT @travlandleisure #TL_Chat.
About Travel + Leisure
With an eye for the authentic, the innovative, and the irresistible, Travel + Leisure (http://www.travelandleisure.com, @travlandleisure) fuses expert reporting on culture, food, style, and design with stunning photography, transporting readers to the places-and the travel experiences-that matter now. T+L, the monthly title from American Express Publishing and the long-standing authority in its field, has the largest audience of any travel magazine and is an indispensable guide for global nomads. Travel + Leisure has a network of international editions, including Travel + Leisure Mexico, Travel + Leisure Turkey, Travel + Leisure China, Travel + Leisure South Asia, and Travel + Leisure Southeast Asia.
Media Contacts: Promo Communications
Maureen Poschman: maureen(at)promocommunications(dot)com
Sarah-Jane Johnson: sarahjane(at)promocommunications(dot)com
+1 970 925 8480