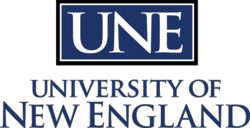 "Leadership is not something outside of your personal values and ethics, but an integral part of you."
Biddeford, Maine (PRWEB) February 14, 2013
The University of New England (UNE) announces that applications are now being accepted for the Fall 2013 cohort of the Doctor of Education in Educational Leadership (Ed.D.) online program. First launched in 2012, UNE's online Ed.D. program quickly garnished unprecedented popularity, accepting 33 students into the inaugural cohort. The program will accept 50 students for 2013. The application deadline for the Fall 2013 term is May 31, 2013.
"We are proud to offer this innovative, fully online Doctoral Program in Educational Leadership," says Greg Kearsley, PhD, Director of Online Graduate Programs in Education for UNE. "This Ed.D. program provides our educational leaders of today with the necessary knowledge and skill set to transform their organizations and communities."
The online Ed.D. program, with a focus on Transformative Leadership, provides current and aspiring administrative and instructional leaders in diverse settings (e.g., education, health, non-profits, NGOs, public and private organizations and agencies, etc.) with the knowledge, experience, and skills needed to transform their organizations through the effective use of human and technological resources. The three-year program (including dissertation) is completed entirely online with no residency requirement.
"Leadership is not something outside of your personal values and ethics, but an integral part of you," says Dr. Michelle Collay, Director of the Online Doctoral Program in Educational Leadership. "Our program supports professionals to examine their leadership through reflection, analysis, formal study of leadership theory, and ongoing evaluation of how their leadership influences others."
The online Doctor of Education in Educational Leadership (Ed.D.) program is a 51-credit hour program. Instruction includes online lectures, instructor-led discussions and assessments, small group interactions, and limited, flexible synchronous sessions. Small cohort sizes of 25 allow each student to thrive in a collaborative yet focused learning environment. Professionals will engage in additional preparation outside of class that includes readings, project development and applied research, as well as the completion of a culminating dissertation that employs professional knowledge, new learning and demonstrates transformation of self, organization, and community.
Admissions requirements for the online Ed.D. program include:

Completion of a Master of Science or Arts degree from a regionally accredited institution
Submission of UNE's online application (including application fee) with:
Three letters of recommendation that focus on personal, professional, and academic qualifications for completion of a doctoral level program
A current resume or curricula vita
An application essay of a maximum of 1,200 words, following APA format demonstrating academic writing, including references to peer-reviewed scholarly work
Submission of official transcripts from ALL colleges and universities attended
Completion of a faculty interview, by invitation only, after application file has been reviewed by the department admissions committee
The University of New England is an innovative health sciences university grounded in the liberal arts, with two distinctive coastal Maine campuses and unique study abroad opportunities. UNE has internationally recognized scholars in the sciences, health, medicine and humanities; offers more than 40 undergraduate, graduate and professional degree programs; and is home to Maine's only medical school. It is one of a handful of private universities with a comprehensive health education mission including medicine, pharmacy, dental medicine, nursing and an array of allied health professions. UNE's interprofessional education initiatives prepare future health care professionals to practice comprehensive and collaborative team-based care. Both graduate and undergraduate students engage in research and scholarship alongside dedicated faculty who are committed to their academic and professional success.
For more information on UNE's online Doctor of Education in Educational Leadership (Ed.D.) program, please visit http://info.une.edu/pr/EDD, call (855) 325-0893 or email OwlAdmissions@une.edu. To apply today, visit http://info.une.edu/apply.