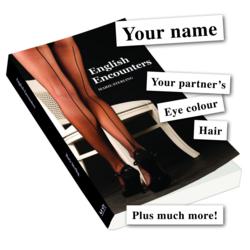 George Clooney continues to rank first as the top male celebrity romance hero, followed closely by Edward Cullen
Russellville, KY (PRWEB) February 13, 2013
Let's face it, its hard not to visualize the leading characters of a romance novel, irrelevant of how the author has described them. Whether its a real life partner, or a celebrity crush, Hugh Jackman anyone? Personalized book publisher, U Star Novels will have the reader doing the romancing this Valentine's Day as they literally become the star of their own novel.
Customers simply visit the website, choose a book and then enter 20-30 details about themselves and partner…. ranging from eye color, favorite music, pet names and body descriptions. The details are woven into one of the company's twenty pre-formatted novels.
The publisher says over 15,000 people are expected to receive a personalized romance novel this Valentine's Day, where their Valentine has personalized a mushy romance or erotic novel into something much more exciting for them where the reader is the star.
U Star's personalized erotic novels have been become renowned for spicing up things between the sheets and celebrity partners that women fantasise about feature frequently as the hero submitted as the star of the company's personalized romance novels.
George Clooney continues to rank first as the top male celebrity romance hero that women put into their books, followed closely by Edward Cullen, Johnny Depp, Eric Northman, Brad Pitt and not surprisingly, Christian Grey.
Turnaround time is quick, too. Publisher Jon Reader said customers can still order their personalized ebooks on Valentine's Day. Virtually all the orders are done on the Internet, and ebooks are available for all types of readers including iPad, Nook, Kindle and many others.
For a sweet surprise this Valentine's, customers can easily add a personalized novel to their Valentine's Kindle or NOOK for an extra special read on the way to work or if couples will be spending the day apart.
Mesha from Fort Lewis in Washington said the book was awesome to begin with, but to have it personalized was even better.  She and her husband spent the whole day reading parts to each other and thought it was one of the hottest gifts she had ever received.
The company can also produce personalized versions of a number of literary classics, including Pride and Prejudice and Romeo & Juliet.
For more information on the entire U Star Novels range, and to learn how real life people can become romance novel heroes please visit: http://www.ustarnovels.com
About U Star Novels
U Star Novels is the world's leading company of personalized novels with the largest range of customizable titles available.
Each of the company's expansive range of books is available for complete personalization, with up to thirty unique elements in each book.
The entire range is available in both eBook and paperback formats, with electronic delivery taking just a few hours.