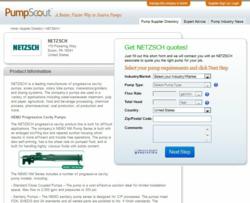 By partnering with PumpScout.com, NETZSCH is able to reach a whole new set of buyers who are searching the web for progressive cavity, lobe, and screw pumps.
Tacoma, WA (PRWEB) February 13, 2013
PumpScout.com is proud to announce a new partnership with NETZSCH Pumps North America, a Pennsylvania-based company that specializes in progressing cavity pumps and rotary lobe pumps. The pump manufacturer is the North American subsidiary of NETZSCH, a global operating group headquartered in Germany that includes 130 sales and production centers in 23 countries.
"We're excited that the pump buyers using our site now have access to not only product quotes, but also the expertise of NETZSCH representatives," says PumpScout.com CEO Justin Johnson.
NETZSCH manufactures its NEMO progressive cavity pump, which can be assembled using a modular system. Customers can choose different materials of construction, stators, universal joints, housing and seals based on their specific application.
The NEMO pump series is built with an enlarged stuffing box and tapered suction housing, which the company says results in more efficient operations – and less repairs. The NEMO progressing cavity pumps are also self-priming, have a low shear rate on pumped fluid, and are ideal for handling highly viscous fluids that contain solid.
The pump supplier also makes TORNADO Rotary Lobe Pumps. These lobe pumps are great for pumping viscous fluids that include solids and abrasive materials such as those often found in the environmental and energy, chemical and oil and gas process industries.
NETZSCH's Vice President of Sales, Julio Ferreira, is looking forward to introducing their high-quality products to more pump buyers.
"By partnering with PumpScout.com we're able to reach a whole new set of buyers who are searching the web for pumps we can provide," he says.
PumpScout.com is a digital lead generation company that aims to streamline the pump buying process by connecting online pump buyers with the right suppliers. Pump buyers who have used the service say it saves them a tremendous amount of time when connecting with pump suppliers and getting quotes.
"Many buyers now start their process by looking to the Web for information about their application and products," Johnson says. "We're becoming the go-to site when it comes to answering these buyers' questions – and quickly introducing them to suppliers who can provide them product information and quotes."
About PumpScout.com
PumpScout.com is the pump buyer's single source for pump suppliers and consumer information, tools and tips on buying and maintaining all kinds of industrial pumps. The website features a powerful quote system allowing buyers to get price quotes – fast and free. For more information, visit PumpScout.com.