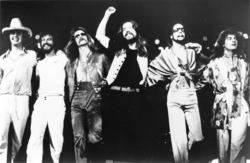 Denver, Colorado (PRWEB) February 13, 2013
Raspy-voiced rocker Bob Seger is hitting the road again.
Joined by his signature Silver Bullet Band, the Grammy Award-winning singer-songwriter has booked 19 North American dates in the first leg of his Rock and Roll Never Forgets Tour.
After opening in Toledo, the band heads for Grand Rapids, Green Bay, Winnipeg, St. Paul, Fargo, Calgary, Edmonton, Saskatoon. Vancouver, Seattle, Portland, Denver, St. Louis, Chicago, Dayton, and Detroit. The current schedule calls for a wrap at the Barclays Center in Brooklyn on April 16, 2013.
Special guest Kid Rock will join Seger for the St. Paul and Fargo concerts on March 15 and 16 respectively. Joe Walsh is scheduled to appear with the tour for concerts in Vancouver, Seattle, Portland and Denver.
"Search traffic for Bob Seger tickets is spiking again," said Felina Martinez at online ticket marketplace BuyAnySeat.com. "Although tickets officially went on sale January 29 causing traffic spikes, volume is surging again as the tour nears. That's why we're proud to be able to offer fans a great selection of Bob Seger tickets, with a worry-free guarantee to protect their purchase," said Martinez.
"In fact, we currently have a high quality inventory of cheap Bob Seger tickets now available on our site," said Martinez. "To access the continuously updated selection of tickets, customers can go to BuyAnySeat.com and search for Bob Seger – then select their tickets," said Martinez.
As an American rock and roll singer-songwriter, guitarist and pianist, Bob Seger performed as Bob Seger and the Last Heard and Bob Seger System throughout the 1960s. After becoming successful in the Detroit-area music scene, he put together The Silver Bullet Band in 1973 with a group of fellow motor city musicians.
The group went national with their album, Live Bullet, in 1975 and Night Moves in 1976; and has worked with the Alabama-based Muscle Shoals Rhythm Section for many of their top hits.
Known for his signature raspy voice, Seger has written and recorded songs that deal with love, women, and blue-collar themes. Some of his most popular hits include "Night Moves", "Turn the Page", and "Against the Wind". Seger also co-wrote the Eagles number one hit "Heartache Tonight".
Selling out shows is also nothing new to the star. For example, many shows on the singer's 2006 Face the Promise tour sold out within minutes. Plus, all 10,834 tickets for his first show in Grand Rapids, Michigan (his home-state), sold out in under five minutes. Three more shows were subsequently added, each of which also sold out. (Source: Wikipedia.com)
Seger's Face the Nation album also sold more than 400,000 copies in the first 45 days. In all, it sold over 1.2 million units, returning Seger to platinum status after 11 years without a new album. (Source: Soundscan)
Seger also staged a successful arena tour during 2011. The singer was inducted into the Rock and Roll Hall of Fame in 2004 and the Songwriters Hall of Fame in 2012.
To shop for cheap Bob Seger tickets, visit BuyAnySeat.com.
About BuyAnySeat.com: An online ticket marketplace, BuyAnySeat.com connects sports, theater and other live entertainment fans to an extensive worldwide network of ticket sellers. The site's simplified listings and navigational tools enable fans to easily locate, compare and purchase inexpensive, discounted or lower-priced tickets to virtually all advertised sports and entertainment events around the globe.
The site, which is PCI-compliant and Norton Secured, also provides customers with a complete Worry-Free Guarantee on all ticket purchases. Based in Denver, Colorado, BuyAnySeat.com is a subsidiary of Denver Media Holdings. For more information, please visit http://buyanyseat.com.