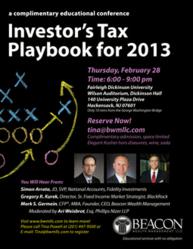 Though you can't escape the effects of the 2013 tax changes altogether, you can apply a bit of strategy to help keep more of what you earn.
Hackensack, New Jersey (PRWEB) February 14, 2013
Beacon Wealth Management will host a complimentary tax efficiency seminar titled Investors Tax Playbook for 2013 on Thursday, February 28 from 6:00 to 9:00 pm at Fairleigh Dickinson University in the Wilson Auditorium in Dickinson Hall, located at 140 University Plaza Drive in Hackensack, NJ (10 minutes from the George Washington Bridge).
Attendees of this program will hear strategic insights, commentary and analysis from the playbooks of three top experts in the fields of tax efficient investing, macroeconomics, domestic and foreign equities, and fixed income. Anyone seeking to enrich their tax and investment knowledge is invited to attend this educational event. Participants will discover strategies to build wealth and keep more of what they earn.
Topics will include:

Q1 commentary and analysis of macroeconomic themes
Tax changes for 2013 and how they affect you
Tax efficient asset management strategies
Asset allocation themes
Framework for tactical investing
Risk and reward – Why "risk-free" is no longer risk free
Strategic opportunities in the year ahead
Investors Tax Playbook for 2013 features three speakers with extensive experience in the financial markets. Mark Germain, CFP®, MBA, founder and CEO of Beacon Wealth Management, will share his expertise in the field of tax efficient asset management. Mr. Germain's firm provides investment management and tax efficiency planning to high-net worth individuals and families. He holds the Certified Financial Planner (CFP®) designation and received his MBA in Finance from Northeastern University and B.A. Economics and Accounting from Southern Connecticut State University. Currently, Mr. Germain is an adjunct professor at Fairleigh Dickinson University teaching future CFP® candidates the Estate Planning curriculum.
Gregory R. Kurek, Director, is a member of the Credit, Rates, and Alternatives Product Strategy team within BlackRock's Fixed Income Portfolio Management Group. Prior to joining BlackRock in 2010, Mr. Kurek was a Client Portfolio Manager and Fixed Income Market Strategist at J.P. Morgan Asset Management, where he was responsible for providing market and product insight to clients as well as participating in portfolio strategy and positioning. Mr. Kurek earned a BS degree in finance from Pennsylvania State University.
Simon Arrata is Senior Vice President for Fidelity Financial Advisor Solutions (FFAS), a division of Fidelity Investments. Mr. Arrata joined Fidelity in 2000 as Senior Financial Planning Consultant. There, he managed the investment portfolios for the firm's high net worth clients, managing over $3 billion in assets, and developed and implemented sophisticated estate and income planning strategies with a focus on intergenerational wealth transfer. He received a Bachelor of Arts degree in political science from Hunter College in 1988 and a Juris Doctorate (JD) degree from New York Law School in 1993 and is a member in Good Standing of the NYS Bar Association. Mr. Arrata holds FINRA series 7, 63, & 65 as well as his Health, Life & Disability license.
Admission is open to the public and complimentary. Pre-registration is required and can be completed online here at: http://bwmllc.sites.hubspot.com/investors-tax-playbook-2013, by telephone (201) 447 – 9500 or email: tina(at)bwmllc(dot)com. Complimentary kosher refreshments, wine, and soda will be served.
About Beacon Wealth Management:
Beacon Wealth Management, LLC is an independent, fee-only registered investment advisory firm based in Hackensack, New Jersey. Beacon advises clients on life's financial decisions including tax efficient investing and planning. For more information please visit: http://www.beaconwealthmanagement.com.