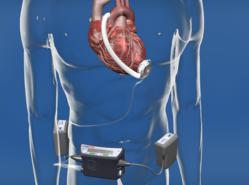 "It has made a huge difference in the lives of our patients."
St. Louis, MO (PRWEB) February 13, 2013
Barnes-Jewish Hospital and Washington University School of Medicine physicians surpassed a milestone in the use of ventricular assist devices (VADs) in 2012. Cardiac surgeons ended the year with a total of 101 VAD implants including two pediatric patients, a 58 percent increase from 2011.
VADs are devices designed to assist patients suffering from end stage heart failure. With the heart too weak to pump on its own, the VAD delivers oxygen rich blood throughout the body. Improved VAD technology, public awareness and the limited availability of donor hearts in the area are all contributing factors to the increased use of VADs at the hospital since conducting the first procedure in 1997.
VADs are surgically attached to the heart's left ventricle and the device sits over the abdomen inside the skin and assists with heart function. External wires run from the device to a pack containing a power supply and the pump's controller. With donor hearts in short supply, the device serves an important purpose by providing patients support until transplant or by providing long-term mechanical therapy as an alternative to transplant.
"It has made a huge difference in the lives of our patients," says Greg Ewald, MD, medical director of heart transplant at the Washington University and Barnes-Jewish Transplant Center. "Ventricular assist devices have allowed very sick patients an opportunity to go home and get healthy enough for a transplant. With the patient in a healthier state, the transplant then becomes a different operation and recovery."
About 70 percent of Barnes-Jewish Hospital heart transplants are performed on patients who first have a VAD implant.
Not all VAD implants are for patients destined for transplant. Destination therapy is an alternative to transplant and has been a viable option for Barnes-Jewish Hospital patients since 2005. According to Dr. Ewald, the impact on quality of life can be quite dramatic. Advanced heart failure patients are breathless with almost any activity.
"A successful implant will allow them to resume activity. They can climb stairs, go for a walk, get things done around the house, and in some cases, return to work," says Dr. Ewald.
To illustrate the larger use of the devices at Barnes-Jewish, 12 VADs were implanted in 2006, 16 in 2007, 30 in 2008, 52 in 2009, 55 in 2010 and 64 in 2011.
###
Barnes-Jewish Hospital is a 1,315 bed teaching hospital affiliated with Washington University School of Medicine in St. Louis, Mo. The hospital has a 1,763 member medical staff, with many recognized as "Best Doctors in America." Barnes-Jewish is a member of BJC HealthCare, which provides a full range of health care services through its 13 hospitals and more than 100 health care sites in Missouri and Illinois. Barnes-Jewish Hospital is also consistently ranked as one of America's "Best Hospitals" by U.S. News & World Report.