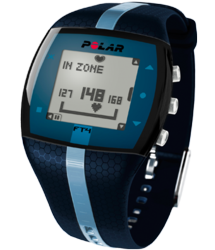 To celebrate February, the month of love, we wanted to run a photo contest of people working out together
Bozeman, MT (PRWEB) February 13, 2013
Win a Polar FT4 in the Heart Rate Watch Company's photo contest on Facebook. Simply post a photo of you and a friend, or significant other, exercising and "Like" the Heart Rate Watch Company Facebook page and that is all you need to be entered.
"To celebrate February, the month of love, we wanted to run a photo contest of people working out together", says Rusty Squire, President of the Heart Rate Watch Company. He adds, "For the person with the most "likes" on their photo by Wednesday, February 20th at 5 P.M. EST they will receive a complimentary Polar FT4 heart rate monitor with the new Polar H1 transmitter and soft strap, plus shipping".
Polar heart rate monitor watches were the innovator of such products back in the late 1970's and they just released a new Polar FT4 model, along with a new more comfortable chest strap and transmitter.
COMPLIMENTARY FITNESS BOOKS FOR ALL ENTRANTS
"Everyone who enters the photo contest will receive complimentary copies of two fitness books that can be downloaded from the books tab at the Heart Rate Watch Company website", says Squire. He adds, "It's just our way of saying thanks for entering and sharing your exercise photos with our community".
"In fact if you would like to download the books: then just click either link for "How To Successfully Use A Heart Rate Monitor" or "How To Elevate Fitness With Strength and Interval Training" and the books will immediately download into an Adobe PDF", says Squire.
WINNERS ANNOUNCED FEBRUARY 20th
Heart Rate Watch Company will announce the winners on February 20th and the products will ship as soon as arrangements can be made.
"It's a bunch of fun to have these contests and they are super easy to enter if you just load a picture from your own computer and attach it to your Facebook post", says Squire. "We'll even use the winning photo on our website for the month of March".