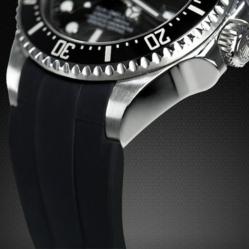 These attributes, combined with absolute passion and Swiss execution make Rubber B...

The Ultimate Rubber Strap for Rolex*
(PRWEB) February 14, 2013
Individual Rolex watch owners, athletes, and outdoor enthusiasts who have been looking for a unique alternative to Rolex bracelets and leather bands, will love that Rubber B maintains a profound integral respect to the Rolex watch case design. Rubber B offers comfort, individuality, and customization along with the option of mounting any original Rolex oyster clasp that came with the owner's Rolex bracelet. A new 316L Stainless Steel Buckle Series has recently joined the lineup as well, offering unlimited choices.
Adhering to a quality brand standard, Rubber B straps are made in Switzerland from an elevated density composite known as Vulcanized Rubber, providing industry proven superior resistance to stretching, exterior environmental elements such as Ozone, UV, and the harsh aggressions of a salty, aquatic environment. Pure and reliable, Vulcanized Rubber does not use any silicone blends, treatments, or coatings.
The result is supreme flexibility and durability against fading or tearing, encouraging a long life without deformation or damage from prolonged use. Rubber B is the only respectable alternative to an original Rolex bracelet. It is smooth, dense, and elasticized to a perfect level, allowing the strap to conform naturally and comfortably around the wearer's wrist.
Many Rolex watch Retailers worldwide carry Rubber B straps for sale in their boutiques. RubberB.com is also a great resource for purchasing with the benefit of UPS Worldwide Express Shipping and live tracking.
*Rubber B is not affiliated with Rolex or any watch brand. Rolex watches, likeness and logos are registered trademarks of Rolex, SA.
About:
Rubber B product lines include straps for Rolex models such as Daytona on Strap White Gold, Daytona on Strap Yellow Gold, Daytona on Strap Rose Gold, Submariner Ceramic, Daytona Oyster Bracelet, All models Submariner including 14060, Explorer (40mm), Explorer I (39mm), Explorer II (42mm), Sea-Dweller, Milgauss (40mm), GMT Master, GMT Master II, GMT Master II Ceramic, Deepsea Sea-Dweller, Datejust II (41mm), Yachtmaster (40mm), and other Rolex Bracelet models.