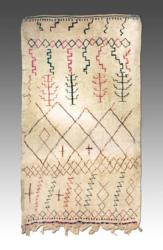 it is only when a rug is imbued with all the weaver's accumulated feelings – the most notable being love – that it can be elevated from an honest work of art to a masterpiece
Chicago, IL (PRWEB) February 13, 2013
The textile department at the Chicago gallery, Primitive, has announced the creation of a new Custom Rug Program, making it possible for anyone to attain a one-of-a-kind floor covering made to their specifications. The program allows the customer to establish the size, design, knot density and color of the floor covering, and in the process has answered the age old question: When does a rug become a work of art? Glen Joffe, the owner of Primitive, said, "We've taken the uncertainty and ambiguity out of the subject. Even if the customer is not sure what they want, with the assistance of specialists in our textile department, customers can get a true work of art made for them in a timely fashion."
What distinguishes a custom rug as a collectible work of art? Rugs can be divided into two categories: commercial, those woven to be sold, and non-commercial, those woven for the weaver's own use. Generally speaking, commercial rugs do not exhibit as much artistic freedom as non-commercial rugs, but this does not mean they require less labor or are less valuable. Commercial rugs are almost always produced in multiples. Non-commercial rugs are almost always one-of-a-kind. The Primitive Custom Rug Program uses commercial design and production techniques to produce a non-commercial product.
The one-of-a-kind rugs typically take 6-8 weeks to produce from the time final renderings are approved, and all are made from Himalayan and New Zealand wool expertly woven by sensitive women. They are woven in India and recognized as distinctive works of art by the weavers. Joffe notes, "rugs may be made from the highest grade materials, endowed with a pleasing design, and display an impressive level of skill and craftsmanship, but it is only when a rug is imbued with all the weaver's accumulated feelings – the most notable being love – that it can be elevated from an honest work of art to a masterpiece."
ABOUT PRIMITIVE: Primitive is an established gallery located in Chicago, which presents exclusive as well as one-of-a-kind collections of furniture, artifacts, textiles, jewelry, fashion and artwork from all over the world. Whether you visit in-person or on the web, you will find a colorful mosaic of authentic collections brought from some of the world's hardest to reach places. Everything offered at Primitive has a story, history, purpose and design heritage, and comes from the hand and heart.