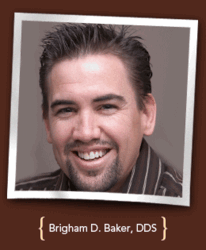 "My focus is to give you the highest quality dental care available to keep you smiling with joy and confidence for a lifetime!"
Dr. Brigham D. Baker, DDS
Phoenix-Mesa, AZ; Houston, TX; San Antonio, TX; Chicago, IL; Philadelphia, PA (PRWEB) February 14, 2013
Impression Dental has teamed up with PageViews Interactive LLC to announce the selection of Brigham Baker, DDS, for the 2012 Best of Chandler Award in the prosthodontics category. Dr. Baker has excelled in his commitment to patients dealing with the problems brought on by missing teeth. A seasoned professional Chandler cosmetic dentist, he understands that the practice of prosthodontics is a multi-pronged undertaking.
Patients at Dr. Baker's office have undergone treatment for congenital disorders as well as full-mouth rehabilitation in the aftermath of severe accidents or illness-related tooth loss. By replacing missing teeth with implants fashioned from the various bio materials available today, he has succeeded in not only restoring the full function of the jaw but also in bringing back his patients' smiles.
At the initial consultation, Dr. Baker establishes the extent of the damage to the jaw and the number of missing teeth. Discussing possible outcomes with the patient, Dr. Baker designs a unique treatment plan that he custom-tailors to the needs of each patient. Making good use of his extensive experience in the area of prosthodontic dentistry, his patients agree that he is the dentist in Chandler to see when someone has jaw restoration needs or encounters tooth loss.
About PageViews Interactive LLC
PageViews Interactive LLC specializes in the use of innovative SEO techniques that help businesses drive organic Internet traffic to their websites. Using a custom-tailored program for each client, PageViews dedicates its expertise to the success of its clients. Contact PageViews by calling 480-556-9752 or visiting the company on the Internet at http://www.pageviews.com/.
About Impressions Dental
Brigham Baker, DDS, heads up Impressions Dental. He is the Chandler family dentist who has been recognized to receive the 2012 Best of Chandler Award for prosthodontics. Dr. Baker is a member of the American Dental Association, the National Dental Association, the Academy of General Dentistry and the Arizona Dental Association. The Chandler office is located at 5970 South Cooper Road. Contact Impressions Dental for an appointment at 480-814-8888 or visit the dental office's website at http://www.impressdental.com/.