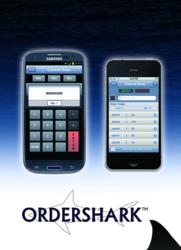 This is the future of retail order entry.
Chicago, IL (PRWEB) February 14, 2013
Sales technology solution provider Ai2 today announced that Harold Levinson Associates (HLA) will deploy Ai2's smartphone order entry solution OrderShark for the convenience store retail environment.
OrderShark was developed by Ai2 as a replacement for an ordering approach that relies on older handhelds using unreliable communication methods. The BYOD ("Bring Your Own Device") aspect of the solution saves a distributor from making a large investment in computer hardware. OrderShark runs on Android, iPhone and iPod Touch. It is designed to combine the convenience of a retailer's favorite device with the necessity of placing regular orders for re-stocking store shelves.
"This is the future of retail order entry," said Douglas Katich, CEO for Ai2. "Just about everyone carries a smartphone, so there's no reason for a distributor to roll out an older handheld or use outdated technology. The distributor and the retailer both win big." Ai2 will display OrderShark in person at the upcoming AWMA Show for wholesale distributors in the convenience store industry.
OrderShark scans almost any type of bar code, displays item numbers and descriptions, and sends orders to a wholesale distributor's host computer via WiFi/3G/4G. It supports international language sets and allows for the copying and emailing of sales orders. The complete feature set is available at Ai2.com
HLA is one of the largest distributors of convenience store products in North America, making three thousand deliveries per day in the northeast United States. HLA has 420 employees at their 600,000-sq. ft. facility on a 22-acre site in Farmingdale, NY. For more information about HLA, please visit HLA's website.
Ai2 was founded in 1986 and is headquartered in downtown Chicago. Their applications are used by more than 75,000 users each day to capture upwards of $75 billion in annual sales. More than 10,000 retail stores and more than 1,000 movie theaters use Ai2 solutions for their order entry needs. Ai2 improves the sales process for some of the world's largest wholesale distributors in foodservice, convenience store, grocery, beverage, hardware, medical, beauty products, jewelry and more. For more information about Ai2, visit Ai2.com.