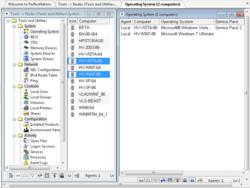 PerfectAdmin brings new control, flexibility and time-saving capabilities to remote management for system administrators and the helpdesk.

Robert Nolan
President and CEO
Gaithersburg, MD (PRWEB) February 13, 2013
Raxco Software, a leader in Windows productivity tools, announced today the release of PerfectAdmin, a pair of system administrator and help desk tools for managing remote Windows systems and users. PerfectAdmin is comprised of two components: PerfectAdmin Remote Control for remote access, and PerfectAdmin Remote Support for remote administration. PerfectAdmin Remote Control may be purchased separately. PerfectAdmin Remote Support includes PerfectAdmin Remote Control.
PerfectAdmin Remote Control
PerfectAdmin Remote Control lets your helpdesk quickly and easily connect to any machine on your LAN or WAN. This provides fast troubleshooting without leaving the helpdesk user's desk.
PerfectAdmin Remote Support
PerfectAdmin Remote Support is a user-friendly advanced Windows remote administration tool that offers management capabilities on servers and PCs in your network -- even unattended machines -- providing a detailed status overview and allowing systems administrators control over the entire domain.
PerfectAdmin Remote Support includes several unique features, including:

Tools -> Nodes View allows system administrators to perform a single action on multiple nodes, rather than requiring repeated actions across multiple nodes.
Saved Sessions lets system administrators save sessions for various systems and open them at a later time, with live data, with a single click, saving time for any administrative tasks which need to be performed repetitively.
Audit Browser writes all actions in the audit database, a private database for the user.
Vertical and Horizontal Filtering allows system administrators to apply a filter to isolate Windows services configured for specific actions that also have a specific status, resulting in only relevant data being shown.
Advanced exporting capability that allows all information to be exported to numerous formats, including HTML, Excel, Word, text and email.
Both are licensed by number of administrators rather than end users, providing affordability and ease of license management.
"PerfectAdmin brings new control, flexibility and time-saving capabilities to remote management for system administrators and the helpdesk," said Robert Nolan, president and CEO of Raxco Software. "The tool is designed to dramatically simplify the time-consuming tasks of remote control and remote management, thereby improving the productivity of both the administrators as well as end users. The end result is a direct improvement to the organization's bottom line, and by making the Remote Control component available separately, an organization can tailor its remote management requirements as it sees fit."
PerfectAdmin Remote Support and PerfectAdmin Remote Control are available immediately. Free 30-day trials are available and licenses can be purchased at http://www.raxco.com, directly from Raxco Software, or from your favorite reseller. Pricing starts at $299.99 for a single administrator license of PerfectAdmin Remote Support, and $89.99 for a single administrator license of PerfectAdmin Remote Control.
PerfectAdmin can be downloaded at http://download.raxco.com/perfectadmin.
###
About Raxco Software
Raxco Software has been helping large enterprises, small businesses, and consumers with their computer resource management needs for more than thirty years. Its PerfectDisk line of disk defragmentation and optimization software is Windows® Certified by Microsoft®. The PerfectDisk line has a long award-winning history, most notably its perfect 5-star review from CNET Download.com, winner of Windows IT Pro Readers' Choice Awards for Defragmentation Utility and Storage Management Tool, and Redmond Magazine's Best of the Best Award, and having won PC Magazine's Editor's Choice award on numerous occasions. In addition to its PerfectDisk line, Raxco also produces other PC optimization software for Windows operating systems and HP's OpenVMS operating system. Raxco Software can be found on the Web at http://www.raxco.com.
###
Contact: Joe Abusamra
Raxco Software, Inc
301-519-7835
jabusamra@raxco.com