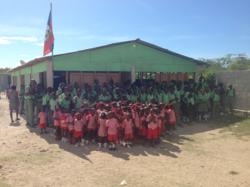 Spring 2013 marks the fourth semester that Professor McClure and her students have partnered with Poverty Resolutions.
University Park, PA (PRWEB) February 13, 2013
Professor Nancy McClure teaches BA 411, a Capstone course required for all students in the Smeal College of Business at Penn State University. Spring 2013 marks the fourth semester that Professor McClure and her students have partnered with Poverty Resolutions, a nonprofit organization with multiple connections to the Penn State community.
Students are able to gain extra credit by finding creative ways to raise money to support projects on the ground in Haiti. Funds raised by the class during the 2011-2012 school year went to construct a school. Through the combined efforts of students at Penn State and Gaymen Elementary School in Central Bucks School District, enough money was raised for the completion of the project. A video of the completed school, which now holds 200 students, can be viewed by clicking here.
This year, funds raised by BA 411 students will be put towards the development of an affordable housing community. Many Haitians live in rudimentary shacks with few amenities. The planned community consists of simple, well-constructed homes with running water, electricity, and sewer. Families will be able to rent-to-own at a monthly rate only slightly higher than the rent they currently pay for inferior housing.
With improved housing, less time and effort will be needed to secure water and do the things necessary to survive. The hope is that families will be able to focus more on work and education – enabling them to better provide for themselves and their families.
Matt and Andrew Jones, co-founders of Poverty Resolutions, both received their MBAs from Penn State and served as Teaching Assistants for the BA 411 course. Poverty Resolutions has hosted nearly 20 Penn State students for internships. They have also partnered with Penn State professor Dr. Sam Richards and students in his Sociology course to sponsor projects in Haiti.
About Poverty Resolutions:
Poverty Resolutions is a 501(c)(3) nonprofit organization dedicated to the eradication of dollar-a-day poverty. They aim to educate Americans to increase awareness of global poverty and to inspire them to take action. In Haiti, they provide sustainable solutions to poverty, which empower individuals and organizations to meet the needs of their communities.
Poverty Resolutions has delivered educational presentations to students from elementary school through university.
To learn more, visit: http://www.povertyresolutions.org/