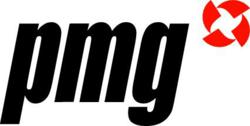 PMG's presense at CIOsynergy Atlanta, will provide event attendees with an additional layer of industry insights and thought leadership..Patrick Mason - Dir. of Communications and Marketing | CIOsynergy
Hoffman Estates, Illinois (PRWEB) February 18, 2013
CIOsynergy, a provider of thought leading conferences, today announced PMG participation at its event on February 21, 2013 in downtown Atlanta, Georgia.
PMG provides a centralized, unified catalog of services across the enterprise through the intuitive, familiar interface of online commerce. End users are able to easily and quickly request services, check their status and stay informed on corporate policies and requirements regarding those services—all from one solution. IT users can clearly define services in business terms, so customers know what is available and what to expect when they request a service. Internal customers can track the status of their requests, reducing unnecessary "status update" calls. PMG SCS makes it easy to collaborate on agreements, budgets, and priorities to support actionable SLA's—all resulting in smarter business decisions.
"We are thrilled to have PMG at CIOsynergy Atlanta. As a leading provider of enterprise service catalog and business process automation software, their presence will provide event attendees with an additional layer of industry insights and thought leadership," says Patrick Mason, Director of Communications and Marketing at CIOsynergy.
"We are excited to be part of the business community that has established Atlanta as a real player in the technology market," says Joe LeCompte, Principal of PMG. "CIOsynergy provides an excellent platform to partner with our local colleagues and continue to drive innovation and leading solutions right here at home."
CIOsynergy Atlanta is an exclusive opportunity for leading local CIO and IT executives to network and brainstorm daily hurdles in an unparalleled learning environment under the umbrella of the founder of Monster.com, keynote of the event Jeff Taylor. As an expert in technology, advertising, and human capital, Taylor zeroes in on what lies ahead, sensing economic upheaval, changing global employment, and the shift in doing business that Web 2.0 has created. Envisioning ways to capitalize on these evolving trends with technology and the power of human capital, Taylor taps into his experience to advice businesses on how they can break away from the competition by adopting a new mindset and getting in early with social networking.
At CIOsynergy Atlanta a panel of leading CIOs moderated by Scott Shuster, will share and explore how CIOs can be successful in their role. Mr. Shuster has led virtually every Business Week CEO, CFO, and CIO conference held since the founding of the magazine's events group more than 100 of the world's most prominent gathering of large company leaders and senior executives.
Open to Fortune 500's and mid-market enterprise, CIOsynergy's events gathers senior executives from the office of the CIO, including Directors, VPs, Chief Architects, CTOs and CIOs.
For more information about or to participate in CIOsynergy Atlanta, visit: http://pmg.CIOatlanta.com , or contact Araceli Delgado, Project Coordinator at aracelid(at)ciosynergy(dot)com or 1.847.278.2213 ext. 899.
About CIOsynergy
CIOsynergy provides a platform that brings together the thought leaders of IT through events that incorporate face-to-face meeting opportunities, panel discussions, think tanks and keynotes, and C-suite networking programs.
Previous events have attracted C-suite leaders from companies such as Wal-Mart, Salesforce, Home Depot, Bank of America, Forbes Media, Wells Fargo, Shell, Allstate, Farm, Career Education Corp, Pepsi, Sara Lee, Kraft, BP, Loyola University, Kaiser Permanente, Mayo Clinic, and Walgreens.
The company operations nationwide and has previously partnered with sponsors such as IBM, 3com, VMware, Unisys, Hitachi, Oracle, SunGard, Dell, Google, Amazon, and HTC among 100's more.
About PMG
More than 20 percent of the Global 100 relies on PMG to deploy enterprise service catalog and business process automation software that streamlines operations, reduces costs and improves efficiency. Our solutions transcend traditional IT service management boundaries giving business and IT professionals a smarter way to automate business processes ranging from IT financial management to identity management, employee onboarding and cloud provisioning. As a result, our clients handle shared services requests faster with fewer manual processes and less reliance on staff intervention. For more information, please visit pmg.net.
PMG.net and PMG Service Catalog Suite are registered trademarks or trademarks of PMG.net. All other trademarks, brand names, or product names listed above belong to their respective holders.