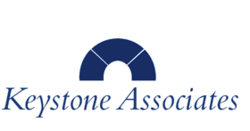 Boston, MA (PRWEB) February 14, 2013
Keystone Associates, a leading career management services firm and the Boston office of Career Partners International, announces Mark Newall's appointment as practice lead for Keystone Associates Legal as well as the launch of their Keystone Associates Legal website.
Keystone Associates Legal has provided career transition services to lawyers and legal professionals throughout New England for 30 years. In that time, the Keystone team has worked with hundreds of partners, general counsel, and attorneys at all levels to successfully transition them into new positions or new careers.
"We are excited to announce that Mark Newall, Senior Vice President at Keystone Associates, is leading our Keystone Associates Legal practice," said Elaine Varelas, Managing Partner at Keystone Partners. "Mark has been with Keystone Associates since 2007 and brings 25 years of human resources management and attorney performance management experience at Boston area law firms to every client engagement. We are also thrilled to have a dedicated website that HR and legal professionals can source for industry and service information."
Keystone Associates Legal offers in-depth and specialized career management solutions for attorneys and legal professionals at all levels. Keystone Associates Legal's service offerings include outplacement, coaching, leadership development, retirement, and career reinvention. Each program is tailored to meet the unique needs of lawyers, legal professionals, corporate, non-profit, and government legal department professionals as they strive to achieve their career goals.
"This service becomes more imperative every year for the Boston legal community as mergers and acquisitions continue to force firms to focus on cost-cutting and scaling back the number of legal professionals hired and retained," said Newall, Senior Vice President of Keystone Associates Legal. "I am excited to lead our team of JD's and former legal professionals like myself, to offer best-in-class transition services. We understand the pressures that come with searching for the right career path in the legal marketplace, and we utilize our first-hand knowledge and expertise to assist our legal clients in today's economy."
About Keystone Associates
Keystone Associates is a leading career management consulting firm headquartered in Boston, Massachusetts. For more information about Keystone Associates Legal, please visit our new site at keystoneassociateslegal.com.
About Career Partners International
Established in 1987, Career Partners International is one of the world's largest and most successful global providers of talent management solutions. Organizations of all sizes and industries turn to Career Partners International to successfully assess, engage, develop and transition talent using the expertise of over 1600 highly experienced professionals in the areas of assessment, executive coaching, leadership development and outplacement. With more than 200 offices in over 40 countries around the world, Career Partners International assures that its clients have local experts with global reach in talent development, career management, executive coaching, outplacement and career transition services. Additional information can be found by visiting cpiworld.com.