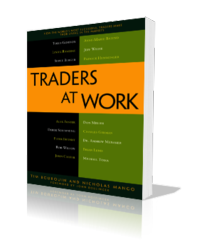 (This book) delves into the very heart of the trading endeavor to divulge the triumphs, failures, emotions, and insights that are part and parcel of being a trader at work.
—Morgan Ertel, Editor, Apress Media
New York, NY (PRWEB) February 13, 2013
"In Traders at Work," Tim Bourquin and Nicholas Mango sit down with the world's most successful traders to learn, in their words, what it takes to be consistently profitable in the financial markets. However, this comprehensive resource does more than just reveal the trading strategies of those who trade for a living. It also delves into the very heart of the trading endeavor to divulge the triumphs, failures, emotions, and insights that are part and parcel of being a trader at work." —Morgan Ertel, Editor, Apress Media.
Many people who work at proprietary trading firms or manage a hedge fund's trading activity unfortunately underestimate the movements of the markets and catastrophically overestimate their own trading abilities. All it takes is a few bad trades to plunge them into a massive financial hole.
"Traders at Work: How the World's Most Successful Traders Make Their Living in the Markets" by Tim Bourquin and Nicholas Mango describes how professionals trade profitably: the strategies and software they use, how they went from part-time to full-time trading, the mistakes they made early in their careers, when they quit their day jobs, how they manage their emotions, and what it took to bolster their confidence levels to do what they do. The 20 subjects of the book's interview format are some of the world's most successful professional traders who run the gamut from at-home hobbyists with their own firms to those working at hedge funds, on proprietary trading desks, and in exchange pits.
"Traders at Work" lays out the hard-won wisdom of these world-class trading professionals: Todd Gordon, Linda Raschke, Serge Berger, Alex Foster, Derek Schimming, Peter Brandt, Rob Wilson, John Carter, Anne-Marie Baiynd, Jeff White, Patrick Hemminger, Don Miller, Charles German, Dr. Andrew Menaker, Brian Lund and Michael Toma. It also includes a chapter on the 20 habits of wealthy traders, and offers valuable insight to those eager to know more about how markets work and who have been thinking about trying their hand at trading. This readership also includes people with retirement accounts or mutual funds who want to take a more active role in the management of their finances.
To learn more about "Traders at Work: How the World's Most Successful Traders Make Their Living in the Markets," visit http://www.apress.com/9781430244431.

ISBN13: 978-1-4302-4443-1
*220 Pages
*User Level: Beginner to Advanced
*Publication Date: January 23, 2013
*Available eBook Formats: EPUB, MOBI, PDF
*Print Book Price: $24.99
*eBook Price: $17.99
About the Authors
Tim Bourquin is the co-founder of Traders Expo (formerly Online Trading Expo) and Forex Trading Expo, top conventions for active retail traders. A former police officer with the Los Angeles Police Department, he's also the founder of TraderInterviews.com, an online media site which features discussions with top traders.
Nicholas Mango is a freelance writer and editor with extensive experience working with professionals and industry experts in the active trading community.
About Apress Media
Apress Media is a technical and business publisher devoted to meeting the needs of IT professionals, software developers, programmers, and business leaders with more than 1,000 books in print and electronic formats. Apress provides high-quality, no-fluff content that helps serious technology professionals build a comprehensive pathway to career success. Since 2007, Apress has been part of Springer Science+Business Media, one of the world's leading scientific, technical, and medical publishing houses, enabling global distribution of Apress publications.
For more information about the innovative approach Apress takes to publishing, please visit http://www.apress.com.