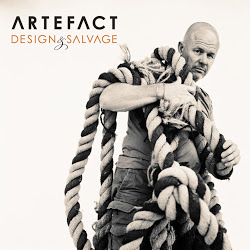 "It's the kind of store that inspires great design - even a few small items can transform a space in your home or garden."
- CEO of Joie de Vivre, Chip Conley
(PRWEB) February 13, 2013
Presenting once in a lifetime deals to match once in a lifetime objects, Sonoma-based Artefact Design & Salvage is cleaning out its veritable museum of curious home furnishing at discounts up to 70%. Artefact, known for its wild home goods gleaned from across the globe, is a designer's dream with inventory ranging from fossilized giant clams to Indonesian teak rice pounders to recycled glassworks and weathered wood furniture. This inventory will be on display along alongside a special presentation of newly acquired antiques from San Francisco's Cannery Building and the famed Hearst Collection. Dave Allen, owner and world explorer responsible for this wonderland of decor reasons, ""I want to go into spring with a blank slate, so come help us clear the place out!" says Dave Allen.
The second annual Hoist & Haul event will be held at Cornerstone Gardens in Sonoma, a wine country destination of gallery gardens and local arts. Located just an hour north of San Francisco and running from February 16th through the 24th, this event is a perfect post-Valentine's getaway for shopping, sipping, and soaking up the gorgeous landscape. Connoisseurs of antiques will not want to miss the newest objects of fancy on show: ceramics, ornately carved furniture, and ironworks acquired from the Hearst collection via the estate of Leonard Martin.
Newspaper man and politician, William Randolph Hearst, was a giant in life and death (did you know his persona was the inspiration for the lead character in Orson Welles' Citizen Kane?), and his renowned collection of European finery was no exception. Scattered amongst museums and private collectors, some of these worldly wonders found their way into the hands of Leonard Martin. Martin, as some San Francisco architecture buffs may know, was the visionary behind the revitalization of the historic San Francisco cannery, now a popular place of community and commerce. With historic provenance, antique craftsmanship, and a chain of possession worth bragging about, these prized items are not to be missed at the Hoist & Haul event.
About Artefact Design & Salvage:
Artefact Design & Salvage is a leading source of natural and salvaged home decor located in Sonoma, California. Helmed by world-traveler and artist, Dave Allen, Artefact stocks its award-winning showroom and online boutique with architectural statements, Indigenous crafts, eco-friendly home accessories, and wonders of the natural world. Stocking rare and imported goods, Artefact prides itself on championing the cause of salvage, conducting conscious and fair trades with local craftspeople, and connecting homeowners of discerning taste with that
unique piece they've been looking for.
About the Hoist & Haul Event:
The second annual Hoist & Haul event will be hosted at Cornerstone Gardens Sonoma from February 16th - 24th 2013 open 10am-5pm. An inventory-clearing sale, this event will feature one of a kind items at 40% - 70% off retail price. All items are available on a first-come-first-serve basis. Note: consignment pieces and new inventory will not be included in the sales event.