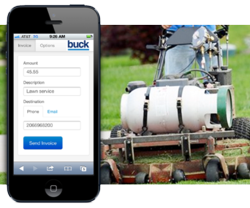 "We're like Square, without the dongle" says Kleitsch.
Seattle, Wash. (PRWEB) February 13, 2013
Buck, a mobile payments company based in Seattle, today announced the launch of its new dongle-free payment service called Buck Mobile Invoice. The free service enables businesses to easily send invoices to any mobile phone and instantly receive credit card payments. The service is convenient for consumers enabling users to pay bills from their phone with a single-tap.
"Our service is a game-changer for businesses sending paper bills" says Andy Kleitsch, CEO of Buck. "Many small and medium businesses spend hours stuffing and licking envelopes, mailing them, and waiting weeks to receive payment. With Buck Mobile Invoice, merchants send invoices from the job site, and receive payments instantly. We've shortened the invoicing process from weeks to minutes."
Businesses simply need a mobile phone, tablet or PC to use the service (no dongle, hardware, or app download is required). The businesses enter an invoice amount, description and phone number, and a text message is immediately sent to the customer's phone, linking the customer to a mobile-optimized HTML payments page.
The service is available to millions of businesses using Authorize.Net, Stripe, First Data, Chase Paymentech, CyberSource, WorldPay, Paperless, Payleap, Comm Idea, PayPal and others.
Unlike existing payment providers and dongles, Buck's Mobile Invoice service allows customers to pay directly from their own mobile device or desktop computer, 24 hours a day, 7 days a week. There is no need to physically swipe a card to receive payment. "We're like Square, without the dongle" says Kleitsch. Businesses can send invoices to customers across town or across the country, instantly.
A video of the service can be found at: http://www.youtube.com/watch?v=zSlV-Y8tYjM
For more information on Buck, please visit http://www.gobuck.com
# # #
About Buck
Buck develops innovative web and mobile commerce solutions for students, moms, coffee shops, landscapers, game developers, banks… everyone! Buck has 10 employees and is located in Seattle WA. (Buck was formerly named Billing Revolution)