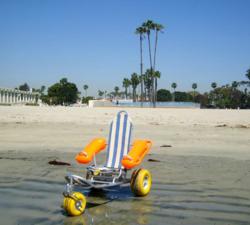 Destin, FL (PRWEB) February 14, 2013
Destin Wheels (division of Disaster Relief Supply) in Destin, FL announces that it has added the Mobi-Chair, floatable beach wheelchair, to its rental inventory. The Mobi-Chair allows the handicapped or elderly who cannot enter the water without assistance, to experience the warm Gulf of Mexico water.
Many disabled or elderly vacationers have avoided the Gulf Coast because of an inability to participate in the main recreational offerings of the area, which are the beach and the Gulf of Mexico waters. The Mobi-Chair floating beach wheelchair has the potential to change the reservations of hesitant visitors by allowing safe transportation across the sand and into the Gulf of Mexico.
The Mobi-Chair can be partially disassembled and folded to allow it to be carried in a van or SUV for transportation to the beach, and reassembled within minutes. This feature is invaluable to vacationers with lodging located in-land, or that use the handicap-accessible beach accesses located off-property from a beachfront hotel or condo.
For more information on the Mobi-Chair contact Destin Wheels at: 4010 Commons Dr. W., Unit 110, Destin, FL 32541, call at 850-424-7863, or visit http://www.destinwheels.com.