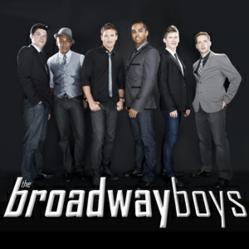 Through their dynamic vocal prowess and redefining arrangements, the BROADWAY BOYS add elements of pop, funk, gospel, jazz and folk to their repertoire and explore harmonies rarely presented by Broadway singers
Worcester, MA (PRWEB) February 13, 2013
The BROADWAY BOYS, a collection of the hottest male voices currently working on the New York stage, will debut at The Hanover Theatre for the Performing Arts for one night only on Friday, February 22 at 7:30pm. Tickets are on sale now.
Through their dynamic vocal prowess and redefining arrangements, the BROADWAY BOYS add elements of pop, funk, gospel, jazz and folk to their repertoire and explore harmonies rarely presented by Broadway singers.
BROADWAY BOYS was created in 2005 by founder, Broadway performer and Somerville, Massachusetts native, Jesse Nager (Motown: The Musical, Mamma Mia!, Mary Poppins, Good Vibrations). One single performance at night club in New York City led to an overwhelming response, forcing the club to bring the boys back again for another sold-out evening. Realizing that this group had serious growth potential, the BROADWAY BOYS decided to focus and develop their product into the "symphony of sound" that they have become known for today.
This rare, intimate concert complete with choreography, sets, and light design will highlight Broadway favorites including "Mammia Mia," "Hairspray," "Wicked," "Rent," "Fiddler on the Roof," and many more.
Tickets to BROADWAY BOYS are $36, $43 and $52, with a 10% discount available for members of The Hanover Theatre, groups of 10 or more, kids, students and WOO Card holders. Purchase tickets online at TheHanoverTheatre.org, by phone at 877.571.SHOW (7469), or at The Hanover Theatre box office located at 2 Southbridge Street in downtown Worcester.
About The Hanover Theatre
The Hanover Theatre for the Performing Arts, located in downtown Worcester, New England's second largest city, is recognized by Pollstar as one of the top 50 theatres in the world. After undergoing many name changes and renovations over the decades since its 1926 birth, The Hanover Theatre reopened in March 2008 following a $32 million historic restoration. Since then, the theatre has established its place as a rich entertainment and cultural venue, winning numerous awards, including The National Trust for Historic Preservation Award in 2010. Now in its fifth season, The Hanover Theatre continues to expose over 170,000 annual patrons to world-class entertainment in the form of Broadway, concerts, comedians and much more. For more information, visit TheHanoverTheatre.org. Worcester Center for the Performing Arts, a registered not-for-profit 501(c)(3) organization, owns and operates The Hanover Theatre for the Performing Arts. All donations are tax deductible to the fullest extent allowed by law.