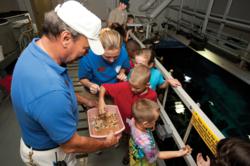 Chattanooga, Tenn. (PRWEB) February 13, 2013
Spring Break is just around the corner and that means nine days of vacation! Get out of the house, recharge and spend some quality family time together on a trip to Chattanooga.
A vacation to Chattanooga quickly proves why the New York Times named us one of the "Top 45 Destinations to travel" in the world and Outside magazine named us the "Best Town Ever."
The Spring Break Safari in Chattanooga is anything but ordinary. The city has been transformed into a place where kids rule and adventure is everywhere. Kids can't resist exploring the world with lots of hands-on activities designed just for them.
What if children could be… a Keeper Kid and feed and mingle with sharks and sea turtles; Spelunker deep in a cavern; RockQuest Adventurer on an enchanted trail; Pilot House Mate and navigate the Tennessee River; an Art Explorer and uncover hidden treasures; a Conductor aboard a traincar; a Zoologist encountering chimpanzees, jaguars, reptiles and camels; a World Traveler exploring the age of dinosaurs; an Engineer on a trolley; or a Culinary Creator whipping up sweets?
This year, kids can enjoy a brand new adventure for their Spring Break Safari – a Chattanooga Scavenger Hunt! The 13-site scavenger hunt includes exciting ways to learn more about each attraction and different parts of the city. Answer a series of clues and document the answers by taking pictures. For more information, check out the mobile site or pick up an official Spring Break Safari Guide. The guide can be downloaded or picked up at any of the participating attractions.
Savvy vacation planners know that Chattanooga is an easy, hassle-free and affordable place to spend Spring break. Downtown is just the springboard for everything else there is to do in Chattanooga, with plenty more adventures just 5-15 minutes away. Once here, park the car, navigate downtown on the Free Electric Shuttle and get started on the safari!
Enter to win a Spring Break Safari Getaway in Chattanooga! Grand prize includes 2 nights' accommodations at the downtown DoubleTree Hotel and tickets to up to six of the Spring Break Safari adventures. Drawing will be held on March 11, 2013.
SPRING BREAK SAFARI OVERNIGHT PACKAGES
Take advantage of exclusive Spring Break Safari packages that include overnight accommodations and a variety of the Spring Break Safari adventures.
Get the full scoop on Chattanooga's Spring Break Safari.