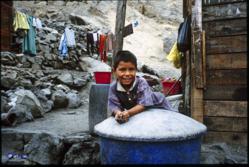 I was very sad and desperate by the way my husband treated us
Phoenix, Ariz. (PRWEB) February 13, 2013
In Peru Valentines Day is called Día del Amor y la Amistad or a Day of Love and Friendship. However, for married couples struggling in poverty, many roadblocks stand in the way of developing that love and friendship. Traumatic upbringings and the stresses of daily life can sap the love and friendship from marital relationships and destroy the drive needed to build a thriving family.
This was the case for Wilmer and Elizabeth, who live in Nueva Imagen, one of impoverished peri-urban areas around Lima. As a bus fare collector, Wilmer earned less than minimum wage. Instead of covering the basic needs of his family, he wasted his meager earnings on alcohol and gambling. He was rarely at home. He mistreated his wife and son, often using violence to get his way.
Desperate, Elizabeth began washing other people's clothes to earn money for her family's needs. She felt angry, unloved and abandoned, saying, "I was very sad and desperate by the way my husband treated us. He didn't show affection for me or my son Ruben. I decided to leave him, but then I couldn't do it, because I got pregnant. I didn't know what to do."
She approached Food for the Hungry (FH) staff for help. They prayed with Elizabeth and her son, Ruben. During several home visits, FH staff counseled Wilmer and helped him gain a new vision for relating to his family. They also helped Elizabeth break the news to Wilmer that he was about to be the father of twins. Once Wilmer got over the shock of the pregnancy news, he agreed to attend FH's Prevention of Family Violence meetings.
Through attending FH's Prevention of Family Violence meetings Wilmer says he felt like he gained sight and for the first time was able to see what his family needed. Wilmer began to see himself as a role model for his son and a caregiver for his family.
Wilmer still faces peer pressure to return to his former ways, but he has resisted. "My friends now laugh at me. They say that I'm hen-pecked, but I tell them that my family is first," Wilmer said.
Ruben's performance in school is improving, and Wilmer and Elizabeth are hosting a Bible Study group in their home to support other couples in their journey of life and parenthood.
Wilmer and Elizabeth are experiencing the love and friendship that truly makes a marriage thrive. It costs much more than a card or a box of candy, but their investment is paying off. Not only are their lives being renewed, they are bringing hope to their entire community.
###
Founded in 1971, Food for the Hungry provides emergency relief and long-term development programs in more than 20 countries to help the world's most vulnerable people. Learn more by visiting http://www.fh.org. Social connections include http://www.facebook.com/foodforthehungry and http://www.twitter.com/food4thehungry.