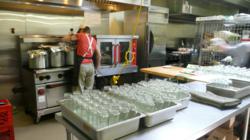 Start-up food businesses gain by producing in a kitchen community of entrepreneurs. They'll achieve more with the addition of Mentors, training, and seminars focused on leveraging knowledge faster and easier
Evanston, IL (PRWEB) February 27, 2013
Now We're Cookin' launched a Food Business Incubator in its shared commercial kitchens in January. Like successful business incubators around the country, the program offers Member entrepreneurs training – including its high-intensity Food Business 101 program for pre-start-ups – the assignment of an experienced Mentor, ongoing series of seminars, a broad resource base, commercial kitchen access and networking with an extended food community to help entrepreneurs shorten their learning cycle and speed their success. Supported by the City of Evanston through an Economic Development grant, Now We're Cookin' has hired an Incubator Manager to bring focus and intensity the program and has recently launched an online learning center for Incubator Members.
This year's second quarterly session of Food Business 101 starts Monday, April 8th – and entrepreneurs anxious to get ready to launch are invited to participate in this intensive 4 week program. For others not quite that far along, the 2 hour Introduction to Food Entrepreneurship seminar will be offered on March 12th at 6:00 pm, and monthly going forward. The Incubator's continuing Seminar program features a Packaging and Labeling Seminar on Tuesday March 5th, with additional offerings being announced regularly. In a collaboration with Northwestern's Kellogg School, on March 9th existing clients will work with student teams to hone strategies, then network with Evanston entrepreneurs. According to Nell Funk, Owner/Entrepreneur, "this session is another example of unique programming being provided by the new Food Business Incubator and demonstrates why we are so excited about its prospects."
Applications for Incubator Membership are being accepted: contactkitchen(at)nwcookin(dot)com for additional information. For experienced professionals interested in participating as a Mentor, please contact Nell Funk at 847-570-4140 or info(at)nwcookin(dot)com.
About Now We're Cookin':
Now We're Cookin' is a culinary center promoting culinary entrepreneurship and innovative culinary events. Http://nwcookin.com. Its commercial kitchens are home to small culinary enterprises and host to the new Food Business Incubator program which is structured to accelerate the progress of food business start-ups. In the exciting demonstration kitchen, Now We're Cookin's team of talented chefs conduct a wide range of cooking classes, host private parties and events as well as corporate team meetings, schedule celebrity chef demonstrations and welcome film/video production teams.