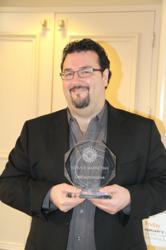 We are proud that our Customer Journey program has been recognized with this technology leadership award.
DAYTONA BEACH, FL (PRWEB) February 13, 2013
DMEautomotive's (DMEa) Customer Journey lifecycle marketing system was presented with the prestigious 2013 Technology Leadership Award for 'Best Service Marketing' at the National Automobile Dealers Association (NADA) Convention & Expo in Orlando, Florida. Dealer Marketing Magazine's Technology Leadership Awards are divided into 11 distinct categories for businesses demonstrating the most innovative technology solutions in the automotive industry.
"We are proud that our Customer Journey program has been recognized with this technology leadership award," Mike Walther, president and CEO of DMEautomotive. "In today's highly competitive market, it is critical that dealers have a service marketing program that is based on real-world analytics and drives both retention and new business -- and that is exactly what Customer Journey does. To be named the service marketing technology leader by Dealer Marketing Magazine is truly an honor."
DMEautomotive's Customer Journey helps dealers acquire, market to and retain today's highly educated and web savvy consumer, addressing shifting consumer loyalty patterns and strong service center competition with an innovative automotive marketing platform that features best-in-class reporting and analytics. The program focuses on 1) bringing new business into dealerships; 2) bringing new customers in for service; 3) keeping customers coming for regular service, and 4) selling to customers when they are ready to buy a car. Customer Journey services include multi-channel marketing; real-time reporting, metrics dashboards and power maps; full customer life cycle sales and service communications, and superior data hygiene, including ongoing email appends.
Built on over 20 years of automotive advertising -- and 30 years of direct marketing experience – in the automotive industry, The Customer Journey provides platforms for individual franchised dealers as well as large dealer groups customized to meet their specific business goals and challenges.
Dealer Marketing Magazine's 2013 Technology Leadership Awards are awarded in 11 distinct categories, including; call management, chat, digital marketing, Internet lead management, inventory management, mobile, online reputation management, service marketing, social media, video marketing, and website design. Five judges voted on the awards based on technology information presented by the nominee companies. Nominations were open to all businesses that have created or implemented fresh technology solutions that benefit automotive dealerships.
About DMEautomotive
DMEautomotive (DMEa) is the industry leader in science-based, results-driven automotive marketing, and provides turnkey marketing to the largest and most innovative automotive organizations, from automobile dealers to many of the largest aftermarket companies in the U.S. DMEa's uniquely panoramic view of the complete automotive sales and service market, combined with its cutting-edge, science-based marketing programs, increases customer yield, conversion and retention.
DMEa does not take marketing performance on faith, and each product and service is measured by a simple, precise scientific approach: Is it true? Prove it. Will it work? Test it. Does it generate results? Show it! Supported by DMEa's proprietary, cloud-based Red Rocket Technology Platform, the DMEa product suite includes science-based, data-driven, multi-channel customer acquisition and retention marketing programs; best-in-class campaign reporting; data management and analytics; auto-focused Customer Interaction Center solutions, and complete on-site mail and email fulfillment services. Headquartered in Daytona Beach, Florida, DMEa also has major operations in Jacksonville, Fla.
DMEautomotive Media Relations:
Melanie Webber, mWEBB Communications, 949-307-1723, melanie(at)mwebbcom(dot)com
Crystal Hartwell, mWEBB Communications, 714-987-1016, crystal(at)mwebbcom(dot)com