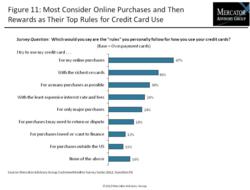 "The anticredit card sentiment appears to be waning, but issuers need to address the needs of the young adults in order to stimulate greater credit card volume."
Boston, MA (PRWEB) February 14, 2013
While consumer credit card use is holding steady, a full recovery to historical credit card spending levels appears to be thwarted by young adults, aged 18 to 35. This demographic is less likely than older adults to have credit cards (59% of young adults surveyed, compared to 70% of seniors surveyed) and three times more likely than seniors to reduce their credit card use in favor of debit cards (36% of young adults, compared to 12% of seniors).
Consumers and Credit 2012: Come Back, Young Cardholders, the latest report from Mercator Advisory Group, examines market dynamics for this group including channels used for applications, consumer and merchant rules for card usage, reaction to surcharging or other merchant rules and foreign acceptance of credit cards outside the United States. This year, consumers appear to be using their credit cards for online purchases (47%), richer rewards (36%), and as many purchases as possible (30%).
The report is the fourth of eight consumer survey reports whose are based Mercator's CustomerMonitor Survey Series. The foundation of the series is data obtained during a national sample of 1,003 online consumer survey responses completed between June 8 and June 19, 2012.
"The anticredit card sentiment appears to be waning," stated Karen Augustine, manager of CustomerMonitor Survey Series at Mercator Advisory Group and the author of the report. "But, issuers need to address the needs of the young adults in order to stimulate greater credit card volume."
Highlights of this report include:

Year-over-year trending of U.S cardholder penetration, cardholder behavior and changes to features, credit limits, APR, applications and results
Shifts in applications for prepaid cards and corresponding channels
Rules consumers follow for credit card usageConsumer perception and expected reaction to merchant rules for credit card use
Credit cards usage outside of the United States and acceptance levels
Usage of payment accounts on file at online retailers and the key payment type used
The report is 42 pages long and contains 17 exhibits.
Members of Mercator Advisory Group's CustomerMonitor Survey Series have access to this report as well as the upcoming research for the year ahead, presentations, analyst access and other membership benefits
Please visit us online at http://www.mercatoradvisorygroup.com.
For more information and media inquiries, please call Mercator Advisory Group's main line: (781) 419-1700, send E-mail to info(at)mercatoradvisorygroup(dot)com.
For free industry news, opinions, research, company information and more visit us at http://www.PaymentsJournal.com.
Follow us on Twitter @ http://twitter.com/MercatorAdvisor.
About Mercator Advisory Group
Mercator Advisory Group is the leading, independent research and advisory services firm exclusively focused on the payments and banking industries. We deliver pragmatic and timely research and advice designed to help our clients uncover the most lucrative opportunities to maximize revenue growth and contain costs. Our clients range from the world's largest payment issuers, acquirers, processors, merchants and associations to leading technology providers and investors. Mercator Advisory Group is also the publisher of the online payments and banking news and information portal PaymentsJournal.com.