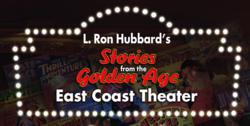 An entertaining evening that features talented actors performing an intriguing story
Tampa Bay, FL (PRWEB) February 13, 2013
Tired of the same boring weekend plans? How about joining homicide detective "Careful" Cassidy as he tries to solve one of the strangest murders ever to occur in New York? On February 23, 2013 at the historic Fort Harrison (210 S. Ft. Harrison Ave., Downtown Clearwater), the East Coast Golden Age Theater will host an evening performance of "They Killed Him Dead," by L. Ron Hubbard. The family-friendly mystery dinner theater will be held from 6-8:30pm.
"Everyone knows that the man was found standing over the body with the smoking gun but is he the murderer? With his perfect record at stake, Careful Cassidy thinks he has the case wrapped up until the medical examiner throws a wrench into his "easy" case."
The talented cast of Tampa Bay actors include: Tom Godfrey, Kathy Sweigart, Dylan Cefail, Colin Taufer, Doyle Mills, Eric Cefail and Nick Hill. Directed by Joanie Sigal.
The Fort Harrison will open its doors at 5:30 PM on Sunday, February 23rd. Tickets are $40 with a dress code of 1940s attire. Prizes will be awarded for best costumes as well as an opportunity to take photographs with the cast.
The East Coast Golden Age Theater was modeled after the Golden Age Theater in Hollywood which started nine years ago. In 2012 alone, the theater hosted over 30 performances.
The Golden Age Theater has been reviewed by LA Weekly which called it "a unique, rarely seen form of family entertainment." The dramatic readings of stories written by L. Ron Hubbard in the 1930s and 40s cover a wide range of genres – action, romance, mystery, adventure, science fiction, Western, suspense, fantasy and more. The theater's own Joanie Sigal has been featured on television talk shows such as Daytime NBC and Studio 10 CBS.
•To view Joanie's segment on NBC Daytime, view http://www.youtube.com/watch?v=91I0mLEpPuk&feature=email.
•To view Sigal's segment on Studio 10 CBS Tampa Bay, go to
http://www.youtube.com/watch?v=RrzTA8OlOP0&feature=youtu.begat.
Aaron Fodiman, Co-Publisher & Editor of Tampa Bay Magazine, called the East Coast Golden Age performance, "An entertaining evening that features talented actors performing an intriguing story."
To reserve tickets contact Ms. Linda Aldrete at (323) 492-7681 or email at aldrete.linda88(at)gmail(dot)com.
About The East Coast Golden Age Theater & Stories from the Golden Age:
Stories from the Golden Age which contains 153 stories all written by Hubbard during the 1930s and 1940s—in genres ranging from Mystery, Thriller, Science Fiction and Fantasy, to Adventure and Western, using his own and fifteen pen names—is widely considered America's Golden Age of Fiction. The print version of each work includes the pulp fiction artwork that originally accompanied the story in magazine publication. In addition, each title offers a full-cast, unabridged audio theatrical presentation complete with theme music and sound effects. Started in 2011 and modeled after the Golden Age Theater in Hollywood, the East Coast Golden Age Theater performs live readings of these acclaimed fiction works up and down the East Coast of the United States. For more information on scheduled performances, visit: http://www.eastcoastgoldenagetheater.com.