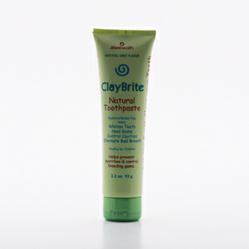 San Francisco, CA (PRWEB) February 14, 2013
Claybrite natural toothpaste is fluoride-free and uses calcium montmorillonite (Kanwa) mineral clay to clean teeth. Flouride toothpastes have been the gold standard in dental hygiene for years, however fluoride content is considered a possible toxin for children in large doses and now strictly regulated. In 1991, the American Dental Association (ADA) required that manufacturers update labels to warn of the concerns with swallowing excessive fluoride toothpaste and that of enamel erosion by dental fluorosis. Unlike fluoride toothpastes, Claybrite natural toothpaste is edible and safe to swallow for both children and adults.
With more than 60 trace elements, Zion Health's Claybrite natural toothpaste uses highly absorptive Montmorillonite, (high grade bentonite detox) clay to bind and remove harmful bacteria and toxins responsible for gum inflammation and tooth decay. According to The American Academy of Periodontology (AAP), approximately three out of four Americans suffer from some form of gum disease. Claybrite is known for removing positively charged bacteria trapped in between teeth and under gum layers to clean teeth and improve overall oral health.
Claybrite natural toothpaste has additional oral care ingredients including grapefruit seed and spearmint oil extracts. Both are proven antiseptic agents and spearmint oil has been used to heal sore gums and whiten teeth. Claybrite natural toothpaste is also sugar-free and uses natural stevia extract and sugar substitute sorbitol as sugar alternatives.
Claybrite natural toothpaste for gum problems is now available at Fremont Natural Foods in Fremont located on 5180 Mowry Avenue, in Fremont, CA.
Zion Health Products may also be purchased online at http://www.kanwaminerals.com. Zion Health provides consumers with pure skin and body care products that are 100% vegan, free of parabens, aluminum, and formulated using certified organic ingredients whenever possible. For more information on Zion Health products, go to http://www.zionhealth.com.