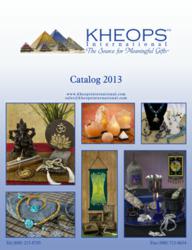 Colebrook, NH February 12, 2013 (PRWEB) February 13, 2013
Kheops International keeps their gift lines fresh by adding hundreds of new products each year. They search the globe to find meaningful gifts and spiritual tools that comfort the mind, and aid the body and soul.
From Canada, comes the distinctive line of Art Glass, which includes candle bases, incense holders and the powerful pyramid box. Life Energizer Pyramids are said to; sustain the "life properties" of the object placed inside them.
The American shores provide smudge sticks, herbs, natural feathers and a large assortment of Crystal Journey Candles, which are handcrafted from the finest wax, infused with exotic blends of essential oils.
Skilled artisans from Bali, India and Nepal meticulously craft products from various materials such as wood, soapstone and clay. Brass Hindu deities such as Lord Ganesha, the remover of obstacles, are available in various sizes.
Many products found in the Kheops line have exotic symbols and are manufactured with materials that possess metaphysical properties. To enhance knowledge and product appeal, Kheops includes information cards that describe the attributes of the symbol and or the metaphysical meaning of the material.
Kheops all-encompassing line provides exotic products to various markets including: Metaphysical, new age, Buddhism, Wiccan and Pagan, general gifts, garden centers and much more.