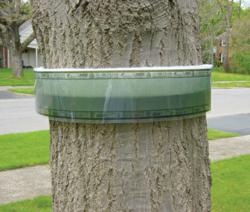 Victor, NY (PRWEB) February 15, 2013
Trees no longer have to endure the incessant attacks of leaf eating bugs. An attractive green band around trees can demonstrate concern for the environment. It will also be the most environment-friendly weapon in the fight against tree damage caused by climbing & crawling insects.
The BugBarrier Tree Band® is popular because they are completely pesticide and pheromone free. They are also effective, attractive and easy to install and remove. The band's dense, flexible, fiber barrier is wrapped around the trunk to fill bark crevices and its adhesive film is installed over the fiber to trap the pests. The film is designed with a unique, inward-facing adhesive which increases the band's effectiveness by keeping the sticky surface free of debris.
The BugBarrier Tree Band should be applied prior to increased trunk activity, and removed once activity has ended. Most frequently targeted insects include gypsy moth, fall and spring cankerworm, winter moth and forest tent caterpillar but because the band contains no poisons homeowners, arborists and landscapers are using it to trap a variety of damaging insects.
BugBarrier Tree Bands are available at many garden stores. If they are not on the shelf, ask the owner about them.
Envirometrics Systems USA inc. is the Manufacturer of the BugBarrier Tree Band. For product information and a list of distributors, visit http://www.treebands.com or contact Envirometrics Systems USA Inc. at 800.379.9677 or bpancoast[at]treebands[dot]com.