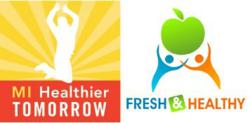 DETROIT, Mich. (PRWEB) February 14, 2013
Fresh Healthy Vending, the pioneer in healthy vending, is partnering with the MI Healthier Tomorrow campaign to help the state battle the health risks and costs associated with obesity.
MI Healthier Tomorrow is a communications initiative of the Michigan Health and Wellness 4 x 4 Plan that is designed to encourage Michiganders to lose 10 percent of their body weight. The initiative allows anyone in MI to request a free starter kit with motivational tips and money saving offers.
Fresh Healthy Vending's Michigan franchisee, Todd Weishaus, is partnering with the campaign to help communicate the importance of making healthy food choices at all ages – and to help facilitate those choices. "Our goal is to make sure Michiganders have healthy options in vending machines where they work and play," says Todd Weishaus, the company's Detroit-based franchisee. He adds that the company donates a percentage of each machine's profits to the organization hosting the machine.
Since entering the Michigan market three months ago, Weishaus, with the help of Fresh Healthy Vending's location procurement team of wellness advocates, has placed 25 healthy vending machines in schools, fitness centers, and dance studios. His goal is to place 100 machines with healthy snacks by the end of 2013.
"Fresh Healthy Vending's participation is an important component of this initiative because it will give adults and children healthy alternatives to the chips and chocolate found in most vending machines throughout the state today," says Dawn Rodman, Health and Wellness 4 x 4 Plan coordinator. "It's important that people have access to healthy snack options wherever they are when they're committed to losing weight."
Fresh Healthy Vending is partnering with similar projects all over the country. "Not a day goes by that we don't receive a call or email from an individual, group or government department that is looking to offer healthy vending as a means to better health for their community" says Alex Kennedy the company's new CEO.
Based in San Diego, Calif., Fresh Healthy Vending is the largest healthy vending machine operator in the U.S. The company offers franchises as well as operating it's own machines locally in San Diego. For information about how to get a Fresh Healthy Vending machine in your facility, visit http://www.freshandhealthy.org. To learn how to become a franchisee, visit http://www.freshvending.com or call 888-902-7558.
To learn more about the MI Healthier Tomorrow campaign, visit the Department of Community Health's website.