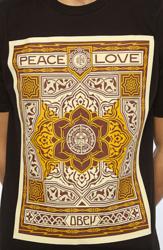 Boston, MA (PRWEB) February 13, 2013
Karmaloop.com, the leading online retailer for urban fashion and streetwear, today announced an exclusive license to sell The Peace and Love Tee by Obey, the streetwear brand developed by world-renowned artist Shepard Fairey.
The Peace and Love Tee is a black, 100%-cotton Obey tee with a Shepard Fairey graphic that was previously available only to friends and families of Obey employees in a limited-edition print for the 2012 holidays.
"This is a great opportunity for anyone who loves Obey clothes," said Karmaloop president Greg Selkoe. "Shepard Fairey's stuff sells big worldwide, and this Obey T-shirt is a chance for fans of the brand to have an exclusive piece -- to be a part of the Obey family."
Perhaps best known for his iconic "Hope" poster of Barack Obama during the 2008 presidential election, Shepard Fairey is widely considered to be one of the world's most influential street artists. Fairey founded Obey in 2001 as an extension of his artwork, and the brand has been wildly successful among urban fashionistas.
"Obey Clothing is all about Shepard's graphic style, his sense of humor. Most of all it's about his attitude toward politics and culture, which is to question everything," said Selkoe. "The brand name is pure irony - Shepard's never obeyed anything or anybody in his life. It's why he's got so many fans in skate and underground culture."
This Obey shirt, like all of the Spring 13 Obey collection, is available now at Karmaloop.com.
About Karmaloop.com
Karmaloop.com is the leading online retailer for global urban fashion and streetwear, with more than $130 million in annual sales. Karmaloop receives more than 4.5 million unique visitors from 40 countries each month, and retails more than 500 brands designed for the "Verge Culture" -- a multicultural demographic that is 18 to 34 years-old and often referred to as the first generation that grew up with the Internet. Founded in 2000, the Karmaloop family of websites today includes the internet television station KarmaloopTV, the women's fashion site MissKL, the menswear boutique Boylston Trading Company, the flash-sale site PLNDR, the online skateboard retailer Brick Harbor, and the independent marketplace Kazbah.
# # #