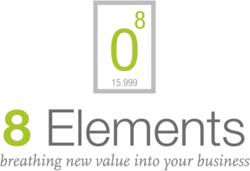 "Without preparation a business will either not sell or will sell for a fraction of what it could be worth."
Calgary, AB (PRWEB) February 13, 2013
Canadians are aging, and the entrepreneurs among them are aging even faster. With one fifth of Canada's entrepreneurs planning to retire within the next 5 years, we can expect to see an unprecedented amount of new businesses for sale – and the competition for those sales growing exponentially.
With Statistics Canada estimating self employed Canadians at 2.7 million, it's no surprise that companies that help small business owners prepare for sale and assist in negotiations are in high demand.
"We know that in the next five years, there will be a glut of new businesses for sale," says Matthew Buxton, CEO of 8 Elements, a Calgary company offering advice on preparing, valuating and selling small to medium sized businesses. "Without preparation a business will either not sell or will sell for a fraction of what it could be worth."
"Having strong reliable advice was essential when I sold my last company," says Kathryn Bechthold, former CEO of Mompreneur Magazine, who joined 8 Elements as a consultant after being impressed with their service. "It was really the difference between getting a low price and getting what it was worth."
Buxton and Bechthold offer potential sellers three tips on finding the right buyer and closing the deal. "If you're thinking about preparing your business for sale, there are things you can do to stand out."
They are:

Sell your business when revenues are up or constant, not when revenues are decreasing.
Ensure all of your accounting is up to date, have a strong financial plan that will impress potential buyers with a realistic view of the future.
Complete a spring clean of the business, make sure your policies and procedures are up to date, your staff is well trained and committed and you are happy with your current marketing plan for the future.
Business buyers and investors are going to have more and more choice as more businesses come on the market. The businesses that will sell, for the price the owner wanted, are going to the ones that took the time to prepare themselves and to get their businesses in proper order.
For more information on how to prepare your business or to interview Matthew or Kathryn, please contact:
Alchemy Communications Inc.
info(at)alchemycommunications(dot)ca
403-819-2547