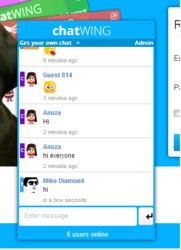 Houston, TX (PRWEB) February 13, 2013
Traveling has entered a new and unbeatable paradigm with the help of the World Wide Web. This factor is one of the main facets of the studies conducted by the Chatwing Development Team—a company known for providing competitive social connectivity in many parts of the world. The company is now releasing a website chat application that can help travel websites gain long-term traffic. The importance of the chatroom can be measured by its helpful functions.
Travelling tips are common in websites because people are looking for easy ways on how to make their journeys safer or more fun. Chatwing's embeddable chatroom empowers this notion by connecting people with each other, despite the distance. A regular Chatwing chatroom has a capacity scaled up to thousands, granting high edge to travel websites. Through this, website owners can create large subscriber bases within a short notice.
The company's advancement to travel and itinerary niche may be a juvenile step, but the developers perceive that it is the start of something better. Seasonal escapades will become better due to the information rate presented in the chat box. Social media login also improves the way visitors and website owners connect to large groups and sectors. Some travel website owners have also used the website chat shoutbox as a form of real-time inquiry section.
To ensure that web users are gaining frontal leverage in many possible ways, Chatwing.com is creating a plan for new improvements in the long run. Information about these upgrades will be posted in Chatwing's official Facebook page.
About Chatwing.com
Chatwing.com specializes in the new field of website chat. Over years, the development team has introduced live chat widget for hundreds and thousands of blogs. The application bridges people from many parts of the world, creating global synergy through the Internet. The shout box can be installed in just seconds, and it can be used for varying purposes such as leisure and Internet marketing. It also allows a user to customize the size, color, and name of the widget.