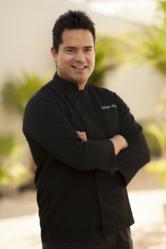 We are thrilled to count Pastry Master Rodrigo Alcocer as part of the excellent culinary team here at NIZUC.
Punta Nizuc, Cancun, Mexico (PRWEB) February 13, 2013
The award-winning hotel chain, Las Brisas Hotel Collection, announces that NIZUC Resort & Spa—the inaugural property of their new luxury Elite brand—will be home to six gourmet restaurants, each featuring the unique and heavenly creations of acclaimed Pastry Chef, Rodrigo Alcocer, who brings his flair for delectable pastries, indulgent treats and fruit-filled delicacies to the upscale retreat located in the beautiful region of Punta Nizuc.
Eschewing standard dessert fare for the endlessly tempting preparations that have become his hallmark, Rodrigo Alcocer places extraordinary skill, originality and creative craftsmanship above the fluff and panache of typical dessert chefs to create noteworthy gastronomic gems that can only be described as "art-on-a-plate." Foodies from around the globe, even those with the most discerning of sweet tooths, will be captivated by the enticing desserts and homemade breads that will be found at NIZUC Resort & Spa's six exclusive restaurants that cover a range of tastes from Mexico, South America, the Far East and the Mediterranean: Ramona, Ni, La Punta Grill & Lounge, Terra Nostra, Café de la Playa and Indochine.
"We are thrilled to count Pastry Master Rodrigo Alcocer as part of the excellent culinary team here at NIZUC," states Louis Daniel, NIZUC Resort & Spa's General Manager. "He is a consummate perfectionist who puts his heart and soul into each of his wonderful creations. We are proud to note that his world-wide experience has brought him much recognition, and that his illustrious resumé is akin to a luxury travel brochure featuring 5-star establishments throughout the Middle East, Latin America and Mexico."
Under the direction of Executive Chef, Vincent Wallez, and at the side of NIZUC's other master chefs like Arnaldo San, Eliazar Mis, Daniele Tonin, and Manuel Eliazar; and with the assistance of Sommelier, Jonatán Verduzco, and Food and Beverage Director, Arturo Esponda, Rodrigo Alcocer is poised to become the region's newest culinary sensation.
From its magnificent location, to its exceptional culinary selections, unsurpassed service, private pool villas and lavish suites; NIZUC Resort & Spa will challenge the exclusivity of the most renown hotel brands in the world.
The vision of the Mexico City-based Las Brisas Hotel Collection, NIZUC Resort & Spa is the flagship property of the brand's new Elite luxury resort line. Las Brisas owns and manages Mexico's most sought after properties. This premier hotel group has now created their signature Exquisitely Refined experience exclusively for NIZUC, exceeding the expectations of even the most discerning traveler. The NIZUC Resorts & Spa brand complements the portfolio that this leading hotel group has built for the national and international markets by utilizing their experience to embody everything that their name is synonymous with: intimacy, luxury and discretion expressed within the context of modern Mexican hospitality.
NIZUC — A Mexican Spirit. A Mayan Soul.
For information, updates and future package opportunities visit http://www.nizuc.com, contact your professional travel agent, or call 1-855-MY-NIZUC from the U.S. or 1-800-MY-NIZUC from Mexico.