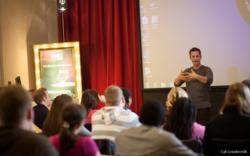 Lynchburg, Va. (PRWEB) February 12, 2013
Actor/producer Kirk Cameron had a captive audience at Liberty University on Monday, as he visited with students of the new Liberty University Cinematic Arts, Zaki Gordon Center, who were among the first to watch a sneak preview of his upcoming film project.
Traveling from California with a film crew, Cameron toured the center and gave students a chance to document his visit on tape, including an interview with Chancellor Jerry Falwell, Jr. Cameron held a one-hour Q&A session after the film preview, offering advice as a Christian filmmaker trying to impact the world for Christ.
"I encourage you: have convictions, have standards, don't let others set them for you. They will set the bar too low," he told students. "Set the bar high and perform for an audience of One (God) — and you'll get the applause of Heaven; you can just trust God to take care of everybody else. That's the motto I go by."
Cameron struck up a relationship with the Christian university and with Falwell after his first visit to Liberty in October 2012, when he was a guest speaker for Convocation.
"We began talking about ways that we might be able to help each other further our respective missions," Cameron said. "What we have in common is that we want to impact the next generation and the culture for Christ — we want to change the culture, and we both want to do that through media."
He said when he heard of Liberty's new venture with a film school, he knew all the more that he wanted to partner with the university, pooling resources to help train a new generation of filmmakers who share his values.
"I thought, here's a film school that has a solid Christian foundation, they're fully funded to be able to have all the tools the students need, they've got fantastic speakers coming in to inspire the students, and they can be a world-class film school, and maybe we can partner together. … It gives us hope for the future, knowing that there are these young, talented passionate students and filmmakers who want to tell stories that glorify God — and that will change the culture."
Cameron said he was impressed with the Cinematic Arts facilities. "This is state-of-the-art, top-of-the-line stuff. Most production companies don't have the equipment Liberty has," he said.
Film director Darren Doane accompanied Cameron with his crew. A well-experienced veteran of the business, Doane said he was impressed to see the students take charge and produce segments on their own throughout the day. He spent a lot of time interacting with students and answering questions.
"The first thing I was struck by coming here is everyone was working, everyone was doing something — and they're handling the highest-end equipment you can be handling. They are given the racecars to drive … and there's a focus. They are professional; you can tell they're really serious about doing it, and that's what I've been waiting to see."
He said a program that emphasizes consistent, hands-on learning like Liberty's does is the most effective.
"If you go to a college sports or music department, you will see them practicing their craft every day. I've seen little, if any, (student) filmmakers who are doing it every day. What I realized coming here, they are doing it every day, whether wrapping cables, or behind cameras, or editing, or sound. That produces filmmakers — that does not produce people who (only) have a passion for film or love film, that produces 'filmmakers,' and that's really exciting."
Executive Director Stephan Schultze said he was proud of his students, who gained invaluable real-world experience during Cameron's visit.
"The best part for me is to have a fellow filmmaker come from the outside to talk to the students and engage them. You can tell (students) a million times a specific thing, but sometimes someone coming from outside, who reiterates the process you go through, the creative process of storytelling … and how your value system fits into that process, is vital, and it's really amazing he's taken the time to come do that with our students."
Senior Jonathan Wymer said he is thankful for the opportunities the program has given him to learn from industry professionals.
"(Cameron's advice) is probably by far the most influential advice I could possibly hear approaching the film industry as my career. It has definitely helped me to understand exactly where I want to go, and how I can get there … and (learn how) to tell original stories, not only what's close to my heart, but also knowing I will actually be able to shine the Gospel of Christ, and be able to reflect what I have learned in my personal relationship with Him."
About Liberty's Cinematic Arts Center:
The Cinematic Arts, Zaki Gordon Center launched in Spring 2012 and is designed to engage students actively in the digital and media delivery revolution that is transforming all areas of contemporary culture. Its course offerings provide both a conceptual and practical experience as well as world-class professional training facilities and equipment. Students accepted as Cinema Arts majors will enter an immersion program their junior year, in which they will be devoted solely to their filmmaking academia. All students who graduate will have written and directed their own short film; compiled a professional reel of their work; written, polished and formed a business plan for their own screenplay; and will have a credit on a long format film.
About Liberty University:
Liberty University, located in Lynchburg, Va., is the world's largest Christian university. Nearly 100,000 students attend classes on its 6,800-acre residential campus and study in its thriving online education program.