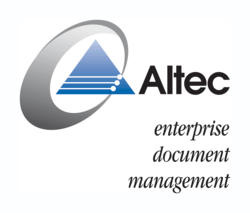 (PRWEB) February 13, 2013
Altec Products, Inc., a leader in enterprise document management and workflow solutions, announced today their participation at three Sage Partner meetings in Australia and New Zealand. The first partner meeting is February 19 at the Sofitel in Melbourne, then February 20 in Sydney at the Four Points by Sheraton in Darling Harbour, and the final meeting is on February 22 at the Villa Maria in Auckland, New Zealand. Altec will be presenting sessions on Sage ERP Document Management at each meeting.
Headquartered in Sydney, Sage Australia has offices throughout Australia and New Zealand and more than 25 years of experience in both local markets. Document Management for Sage electronically captures, workflows, routes and archives business documents and reports to reduce handling costs and improve communication.
In April 2012, Sage Business Solutions, a leading global supplier of business management software, announced their partnership with Altec, a leading provider of mid-market Integrated Document Management (IDM) solutions. Under the terms of the agreement, Sage Business Solutions will distribute Altec's flagship software solution now branded Sage ERP Document Management (formerly doc-link) through its network of Australian and New Zealand resellers who market Sage 300 ERP (formerly Sage Accpac), Sage 300 Construction and Real Estate (formerly Sage Timberline Office), Sage ERP X3 and the CRM solutions by Sage.
Branded as Sage ERP Document Management, the partnership is modeled on the Sage North American agreement where Altec is the exclusive endorsed vendor for integrated document management solutions for Sage's mid-market ERP applications. To qualify as a Sage endorsed vendor, Altec has satisfied the stringent certification criteria required by Sage for integration with its applications.
Sage ERP Document Management by Altec enables paperless processing throughout an organization from accounts payable and accounts receivable to sales order processing and other enterprise applications. Historically, users experience up to a 40 percent increase in productivity and realize a return on investment in nine months or less by automating their labor-intensive paper processes through the capture, workflow and delivery of documents.
"Sage has been a key strategic partner for Altec in North America since 1998, and we are very pleased that the relationship has expanded into the Australia, New Zealand and Pacific region. Sage continues its commitment to deliver cutting edge solutions with a measurable return on investment. The combination of the region's robust economy along with a conservation mindset is driving a strong demand for paperless processing systems," says Mark Ford, CEO of Altec.
About Sage Business Solutions
Sage Business Solutions is a leader in mid-market business software offering true freedom of choice with an end-to-end suite of world-class ERP and CRM solutions. Designed for businesses of all shapes and sizes, we don't believe in a one-size fits all kind of business solution. We can provide small, mid-sized and larger businesses with a comprehensive, integrated and complete solution that is uniquely tailored to their needs and requirements. Sage Business Solutions has offices and representatives in Sydney, Melbourne and Auckland, and more than 140 business partners throughout the Australia / New Zealand / Pacific Island region. For further information, visit: http://www.sagebusiness.com.au
About Altec
Altec is a leading provider of Integrated Document Management (IDM) solutions to mid-market companies. For more than 25 years, Altec has provided a wide range of accounting-centric paper to paperless solutions including its flagship product, Sage ERP Document Management, which enables companies to capture, archive, workflow and route structured and unstructured documents to customers, employees and vendors. Altec's comprehensive solutions include IDM, output management, MICR check disbursement and paper documents that serve more than 13,000 customers worldwide. Altec enjoys strong, collaborative partnerships with ERP solution providers like Sage Software to provide the most comprehensive, integrated enterprise document management solutions. Altec delivers its IDM solutions through a global network of authorized partners in more than 60 countries throughout the Americas, EMEA and Asia Pacific. Visit Altec at http://www.altec-inc.com, or call April Blankenship at 800-997-9921.
###