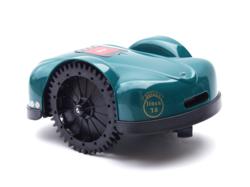 Lawrenceville, GA (PRWEB) February 13, 2013
Kyodo America Industries Co., LTD is proud to announce the release of the new LawnBott LB75 robotic mower in the United States and Canada. The LB75 ushers in a new era of more affordable robotic mowers with abilities and features that allow typical sized yards to take advantage of automated mowing.
The LawnBott LB75 uses a perimeter wire to define the boundaries of the yard. Offering features previously found only in the more expensive models, the LB75 can maintain up to 3 zones, useful for complicated yard shapes. And as all LawnBott automatic mowers do, the LB75 will automatically start from its docking station at a schedule set by the homeowner, cut a portion of the yard and then return to it docking station to recharge all by itself.
Utilizing a completely new design with a centrally located drive system, the LB75 can turn within its own space, greatly increasing its usability in yards with intricate landscaping. As with all LawnBott models, the LB75 is powered by rechargeable Lithium-ion batteries for emissions free mowing! With the LawnBott, the yard gets cut without all the smog and noise associated with conventional gas powered mowers. Using only about $7-10 per year in electricity, the LawnBott is great for the lawn and great for the environment. Video of the LB75 will soon be available at Kyodo America's YouTube page, http://www.youtube.com/user/KyodoAmerica?feature=mhee.
Current gas powered lawn mowers pollute our environment a great deal as their emissions are not regulated. One estimate shows operating a gas powered push mower for one hour equal in emissions to driving a full size SUV for approximately 500 miles. Every LawnBott model produces zero emissions and easily recharges itself.
With John Deere and Honda recently announcing robotic mowers in Europe, with the United States and Canada not far behind, robotic mowing is rapidly becoming a practical option for homeowners.
Kyodo America has a growing base of local dealers who can professionally install your LawnBott, making installation and setup as easy as a phone call. Each dealer is trained on not only the operation of the robots but in working with the homeowner to determine the optimum wire layout and scheduling.
Kyodo America Industries, Co., LTD, is an Atlanta, GA based manufacturer of lawn & garden products and the LawnBott robotic mowers. LawnBott's were originally developed in Italy and are the leading robotic mower in Europe. Since 2000, our robotic mowers have been helping homeowners maintain their yards without the sweat and aggravation of conventional mowers. To find out more, please visit our website at http://www.LawnBott.com.