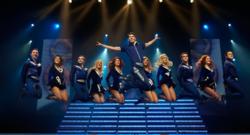 ...a showpiece extravaganza!
Worcester, MA (PRWEB) February 18, 2013
Generations of audiences - more than 60 million people from 68 countries - have seen LORD OF THE DANCE created by Michael Flatley, the world's highest grossing Irish dance show. Presented by MagicSpace Entertainment and Global Entertainment Group, and generously sponsored by Commerce Bank, LORD OF THE DANCE returns to The Hanover Theatre for the Performing Arts in Worcester on Thursday, March 7 at 8pm. Declan Crowley, a sophomore at the College of the Holy Cross, will perform the role of the Dark Lord in this year's production.
Creator and artistic director Michael Flatley, who added fresh costumes, a visually stimulating set featuring an LED wall and revised lighting and set designs this year, still oversees all aspects of the production. "I've always dreamed of creating an Irish Dance show that touches the hearts of millions of people worldwide," says Flatley. "I am so proud of the cast and crew who bring this vision to life on stage each and every night."
LORD OF THE DANCE is a classic tale of good versus evil based on mythical Irish folklore that brings a romantic and passionate love story to stage. Don Dorcha, Lord of Darkness, challenges the ethereal lord of light, the Lord of the Dance. "Battle lines are drawn, passions ignite and a love story fueled by the dramatic leaps and turns of dancers' bodies begins to build against a backdrop of Celtic rhythm," says Flatley. "Fans can expect 21 scenes of precision dancing, dramatic music, colorful wardrobes and state-of-the-art staging and lighting."
Along with dance director, Marie Duffy-Pask, Flatley handpicks the cast of over 40 dancers; each has achieved individual recognition as a national or worldwide dance champion. Lee Marshall, CEO of MagicSpace Entertainment, the tour promoter and veteran of blockbuster entertainment events agrees. "These championship dancers have captivated a new generation of fans, and manage the impossible every night. Their collective spirit and energy takes the audience to a time and place that is as imaginative as it is inviting."
Flatley conceptualized and staged the show in a mere 16 weeks but also paid particular attention to the costumes, lighting and staging which are cinematic in scope. "Irish dance lovers and music fans alike will experience the engaging, rhythmic adventures that has helped catapult Celtic dance mania and Irish dancing into the global spotlight," says Flatley. No wonder LORD OF THE DANCE ticket sales exceed more than $800 million worldwide. Described by the New York Post as "fascinating, rewarding and above all, entertaining," and by the Los Angeles Times as "a showpiece extravaganza," LORD OF THE DANCE is a mesmerizing blend of traditional and modern Celtic music and dance.
Tickets to LORD OF THE DANCE are $27, $37, $47 and $57* with a 10% discount available for members of The Hanover Theatre, groups of 10 or more, kids, students and WOO Card holders. Purchase tickets online at TheHanoverTheatre.org, by phone at 877.571.SHOW (7469) or at The Hanover Theatre box office located at 2 Southbridge Street in downtown Worcester.
For more information, please visit LordOfTheDance.com. Find Lord of the Dance on Facebook at facebook.com/MichaelFlatleysLordoftheDance.
About The Hanover Theatre
The Hanover Theatre for the Performing Arts, located in downtown Worcester, New England's second largest city, is recognized by Pollstar as one of the top 50 theatres in the world. After undergoing many name changes and renovations over the decades since its 1926 birth, The Hanover Theatre reopened in March 2008 following a $32 million historic restoration. Since then, the theatre has established its place as a rich entertainment and cultural venue, winning numerous awards, including The National Trust for Historic Preservation Award in 2010. Now in its fifth season, The Hanover Theatre continues to expose over 170,000 annual patrons to world-class entertainment in the form of Broadway, concerts, comedians and much more. For more information, visit TheHanoverTheatre.org. Worcester Center for the Performing Arts, a registered not-for-profit 501(c)(3) organization, owns and operates The Hanover Theatre for the Performing Arts. All donations are tax deductible to the fullest extent allowed by law.
About MagicSpace Entertainment
MagicSpace Entertainment is headed by Lee D. Marshall, Joe Marsh, John Ballard, Steve Boulay and Bruce Granath and has been producing and presenting national tours, Broadway shows and concerts worldwide for over 30 years. Consistently one of the top promoters in North America, MagicSpace Entertainment typically produces and presents more than 250 events in 75 cities per year. Broadway credits include Donny & Marie – A Broadway Christmas, Hello Dolly! starring Carol Channing; The Who's Tommy, American Idiot and RAIN - A Tribute To The Beatles On Broadway. National tour credits include Lord of the Dance created by Michael Flatley, Jamie Hyneman and Adam Savage starring in Mythbusters - Behind The Myths, Mannheim Steamroller Christmas by Chip Davis, Donny & Marie Christmas, Experience the Beatles with RAIN, David Copperfield, Jesus Christ Superstar, A Chorus Line and concert tours by Nathan Pacheco, Janet Jackson, Cher, Fleetwood Mac to name just a few. MagicSpace Entertainment is currently co-producing SILENCE! The Musical in Los Angeles. In the UK, MagicSpace credits include Let It Be in the West End and an eleven city tour of Donny & Marie Live. Special tours and events produced or presented on the road include Tutankhamaun and the Golden Age of the Pharaohs exhibition, Titanic: The Exhibition and Diana – A Celebration. MagicSpace Entertainment has offices in Park City and Salt Lake City, UT. MagicSpace.net
About Global Entertainment Group
Based in Las Vegas, Global Entertainment Group, Inc. has been part of the extraordinary worldwide success of Lord of the Dance since 1998. Global has booked or promoted the show in more than 30 countries where the show has been embraced by a variety of cultures and individuals from all walks of life. In addition, Global entered into an exciting new business association in 2010 with the world's largest concert promoter, Live Nation, working together on future entertainment projects such as Lord of the Dance and various other international entertainment productions.
*Ticket prices are subject to change without notice.