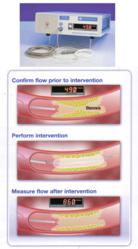 (PRWEB) February 13, 2013
Transonic Systems will be exhibiting at the 9th Annual Scientific Meeting of the American Society of Diagnostic and Interventional Nephrology (ASDIN), to be held in Washington, D.C., on February 15th – 17th, 2013. ASDIN is one of the fastest growing medical societies in the US, and approximately 500 physicians who specialize in vascular access procedures are expected at the 2013 meeting.
The mission of the American Society of Diagnostic and Interventional Nephrology is to promote the appropriate application of new and existing procedures in order to improve the care of patients with kidney disease. The Society promotes education, research, public policy and clinical practice initiatives relating to diagnostic and interventional procedures. ASDIN works closely with other societies and programs to achieve its goals. Transonic is pleased to partner with ASDIN to assist in the promotion of techniques which improve the outcomes of End Stage Renal Disease patients.
For the second consecutive year, ASDIN will also be offering an Advanced Techniques Pre-Course in conjunction with the Scientific Sessions. The full day Pre-Course, which is limited to 80 registrants, will include a series of advanced presentations in the morning, followed by a series of hands-on workshops in the afternoon. Transonic will be offering a Flow Measurement workshop with the HVT100 Endovascular Flowmeter and ReoCath catheters, for use in interventional access procedures and minimally invasive fistula banding procedures for the treatment of Dialysis Associated Steal Syndrome, a potentially severe complication where blood supply to the hand and fingers is restricted. Dr. Gregg Miller, of Brooklyn, New York, will be instructing 80 physicians on the flow assisted Miller Technique (Minimally Invasive Limited Ligation Endoluminal-Assisted Revision) for endovascular banding of high flow fistulas, to treat Steal Syndrome. The Transonic OptiMax flow probe for flow assessment during fistula creation and open banding procedures will also be demonstrated to the workshop participants. Flow assessment during access creation helps ensure functional success of the fistula or graft.
Among the presentations at this year's meeting, several scientific papers feature the use of access blood flow measurement with the HVT100 Endovascular Flowmeter and ReoCath catheters to help optimize clinical outcomes. Dr. Gregg Miller of American Access Care, Brooklyn NY will present on the "Management of Access Flows to Address Steal, Cardiovascular Compromise, and Arm Swelling." Dr. Thomas Vesely of St. Louis Vascular Access will discuss "Fundamentals of Arterial and Venous PTA". Finally, Dr. Dirk Hentschel of Brigham and Women's Hospital in Boston, MA will present on the "Recognition and Diagnosis of High-Flow Fistula"