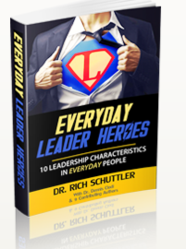 Success isn't about how much money you make, it's about the difference you make in people's lives.
Chicago, IL (PRWEB) February 15, 2013
There may be more than one St. Valentine in Catholic history, but in one well-known account, he is a hero and not just a romantic at heart. According to History.com, Valentine was a priest who served during the third century in Rome. Then Emperor Claudius II decided that single men made better soldiers than those with wives and families so he outlawed marriage for young men. Valentine, realizing the injustice of the decree, defied Claudius and continued to perform marriages for young lovers in secret. When Valentine's actions were discovered, Claudius ordered that he be put to death.
Heroes are among us every day and do not have to fall to their death to be recognized as such. Using everyday people as relatable examples, Everyday Leader Heroes illustrates how each person can become an inspiration to others by drawing on the encouragement of their own leader heroes – a sort of pay-it-forward cycle. Perhaps it was First Lady Michelle Obama who summed it up best, "Success isn't about how much money you make, it's about the difference you make in people's lives."
Drawing on two years of interviews and research, Dr Rich answers the age-old question: What is the secret to happiness? His response? The key lies in learning from the lessons of your own heroes and in turn, finding your own balance and becoming a hero to someone else. Sure, we may not all have the influence or charisma of a world-renowned Saint, but we can learn from their example and try to emulate their success, in whichever sphere we find ourselves. Every chapter in the book concludes with practical exercises and hands-on assessments that challenge the reader to assess their own core values and hone them for success.
As one reviewer, Dr Vince Patton, summed it up: "Ordinary people who do extraordinary things". So whether you consider yourself to be the star quarterback à la Tom Brady, or you're more of a Gisele (unpatriotically) cheering on from the bleachers, you too can become the hero in your own life. And, who knows, you too might become an Everyday Leader Hero, chanting: "Yes I am!"
Everyday leader heroes have a positive impact on the world. Each hero may not generate more than $5 billion in revenue, like St. Valentine's legend does through greeting card sales each year for Valentine's Day. However, the impact of everyday leader heroes is significant socially and often financially.
About:
Dr Richard Schuttler combines his passion for people with an inherent love of teaching. After honorably retiring from the US Navy after a career spanning 23 years, Dr Schuttler has spent the last 14 years assisting some of the most prestigious Fortune 500 companies achieve success using his leadership skills. He founded the Organizational Trouble-shooter, providing coaching, training, and international speaking, while his strategic skills and contemporary leadership improvement training has helped companies such as Delta Airlines, Egyptian Banking Institute, and the University of Phoenix. Dr. Schuttler received a Ph.D. in Applied Management and Decision Sciences from Walden University, a Master's in Human Resource Management from Chapman University, and a Bachelor's in Electronic Management from Troy State University. He is the author of the newly released Everyday Leader Heroes – 10 Leadership Characteristics in Everyday People and has also authored the Best Seller Laws of Communication: The Intersection where Leadership Meets Employee Performance. For more information visit http://www.EverydayLeaderHeroes.com or contact Christopher Foltz at Christopher Foltz at 312-772-4865 or http://www.christopherfoltz.com.