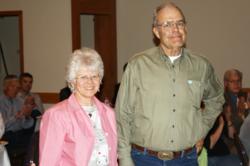 CHEYENNE, Wyo. (PRWEB) February 13, 2013
The Wyoming Stock Growers Association and Sand County Foundation are proud to recognize The Padlock Ranch as the recipient of the 2013 Leopold Conservation Award. Given as part of the Wyoming Environmental Stewardship Award Program, the Leopold Conservation Award recognizes private landowners who practice responsible land stewardship and management.
The award will be presented at the Wyoming Stock Growers Association summer convention, June 5-8 in Cheyenne. The ranch will also be featured at the 2013 Environmental Stewardship Tour July 9.
On 500,000 acres spanning the Wyoming–Montana border, Padlock Ranch operates a sustainable and profitable cattle operation raising natural beef.
"Successful ranches enable the community to continue to have vast amounts of open space that would otherwise be used for uses that would not enhance water and air quality, wildlife habitat and provide recreational opportunities to the public," said Wayne Fahsholtz, President and CEO of Padlock Ranch. "When I came here 10 years ago, we really had the opportunity to look at our practices and decide what we needed to do to have as good a ranch as we could and to grow as much grass as possible."
Padlock Ranch is owned by the Homer Scott family and has been operating since 1943. Scott and his wife Mildred started the operation on 3,000 acres and continued to grow the property to its current size.
The $10,000 Leopold Conservation Award, which is presented as the most prestigious award within the Wyoming Stock Growers Association's Environmental Stewardship Program, recognizes Wyoming ranchers who demonstrate outstanding, sustainable management of natural resources. The Leopold Conservation Award is presented in honor of famed conservationist and author Aldo Leopold, who called for an ethical relationship between people and the land they own and manage.
"We salute the owners and operators of Padlock Ranch for their dedication to conservation practices that make them great stewards of the land," said Sand County Foundation President Brent Haglund, Ph.D. "They exemplify what our Leopold Conservation Award stands for."
"Each year the Wyoming Stock Growers Association and our partners look forward to honoring more landowners for the contribution they make to our state's economy, environment and culture," said WSGA Executive Vice President Jim Magagna.
Encana Oil & Gas (USA) Inc., Peabody Energy, the Lynde and Harry Bradley Foundation and the Monaghan Foundation sponsor the Leopold Conservation Award in Wyoming.
The deadline for nominations is July 12, 2013. For more information please visit: http://www.leopoldconservationaward.org
About the Wyoming Stock Growers Association
Since 1872, the Wyoming Stock Growers Association has served the livestock business and families of Wyoming by protecting their economic, legislative, regulatory, judicial, environmental, custom and cultural interests. We promote the role of the cattle industry in resource stewardship, animal care and the production of high-quality, safe and nutritious beef. Learn more at http://www.wysga.org or call 307-638-3942.
About Sand County Foundation
Sand County Foundation is a private, non-profit conservation organization dedicated to working with private landowners to improve habitat on their land. In the spirit of Aldo Leopold, author of A Sand County Almanac, the Foundation encourages the exercise of private responsibility in the pursuit of improved land health. http://www.sandcounty.net
About Encana Oil & Gas (USA) Inc.
Encana Oil & Gas (USA) Inc. is a leading North American energy company that produces approximately 4.4 billion cubic feet of gas equivalent per day. More than 80 percent of which is natural gas. The organization strives to be a trusted community contributor and is committed to benchmark practices in safety and environmental stewardship, ethical business conduct, and community responsibility. http://www.encana.com
About Peabody Energy
Peabody Energy's products fuel approximately 10 percent of America's, and 2 percent of the world's electricity. The company serves customers in 21 nations representing more than half of the world's population. Peabody achieves strong productivity and safety results and continues to receive the industry's highest honors for land restoration and environmental stewardship. http://www.peabodyenergy.com
# # #