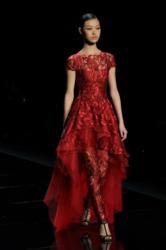 New York, New York (PRWEB) February 16, 2013
Two seasons ago, fire engine red was the color of the moment at New York Fashion Week. This season, designers have turned to a darker hue of the color: crimson red. Everyone--from Monique Lhuillier to Tadashi Shoji to CZAR--has been using the color to brighten up the dark shades of Fall/Winter.
For her Fall 2013 Lavo Collection, Monique Lhuillier, known for her flowing gowns, created a variety of looks using only crimson red. By incorporating lace and draping to the gowns, she was able to maintain the feminine touch she is known for.
Another designer that showcased the dark hue of red was Tadashi Shoji. Similar to Lhuillier, he used crimson in his floor length gowns. He was able to create a gothic look by adding black. Using black as a neutral accent subtly broke up the powerful color.
Aside from evening dresses, designers used the color on everything from tops to cocktail dresses to pants. For example, CZAR- Cesar Galindo created a short cocktail dress with crimson leather sleeves.
Designer to the First Lady, Tracy Reese, took a more ready-to-wear approach. By pairing a crimson red sweater with a dark pencil skirt, she showed women that the color is accessible to all.
About FashionMingle.net
FashionMingle.net is a New York Fashion Week content provider working with partner websites to provide trend coverage, designer interviews and behind-the-scenes coverage of Mercedes-Benz Fashion Week.
Contributor: Brandy Shea
Photographer: Melissa Shea