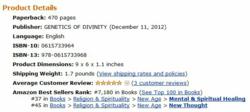 If you feel you are unaware of your life purpose and are not enjoying a delightful life experience so far, I suggest you read this book to learn what a treasure lays embedded, yet dormant within you - you have inherited it from Eternal Consciousness,
Carlsbad, CA (PRWEB) February 12, 2013
ICREATE Technologies is pleased to announce that the book Oh My Genetics Of Divinity, authored by founder Joy Ghosh hit the Amazon bestseller list this morning. Within 2 months since its official launch on December 21st 2012, after a significant effort on Internet Marketing through social media and organic search engine marketing, this is being considered as a significant milestone for our young small business venture.
This non-fiction book reveals the code of Eternal Consciousness that the author describes as the Genetics Of Divinity, which was in place at the birth of Existence, long before the physical Universe as we know it was even created. A consistent copy of this code is stored in the human DNA and is part of the subconscious mind of every person alive. When allowed to operate naturally, the code energetically guides the individual through events, circumstances and relationships that collectively lead the individual to a delightful life experience that is free from conflict or aggression and filled with emotions, of love, peace, health, and prosperity. The book contains a description of this code and the first book of its kind to be published.
"I am humbled at the overwhelming response that my readers have demonstrated today to place their faith and trust on the authenticity of this book, Oh My Genetics Of Divinity," said Joy Ghosh, the author. "I am also visibly excited at the results today - February 12, 2013, as I had visualized - the bestseller status of this book has transformed from perceived reality to true reality in my life. I encourage everyone to secure a copy of this book from Amazon.com and experience the reactivation of those dormant memories of Eternal Consciousness that I call the Genetics Of Divinity. This asset is embedded in our genetics and holds the key to guide the individual and humanity to a significantly better experience than what our civilization faces today."
All owners of this book get complimentary access to the online Multiversity of Genetics Of Divinity that is available for complimentary download. Sample chapters of the book, Oh My Genetics of Divinity are also available at Amazon or at our website.
About ICREATE Technologies, LLC
ICREATE Technologies, LLC has been created to fill the void in the Human Consciousness Market with the mission of empowering the common person with the knowledge that they are designed to enjoy a delightful life experience of love, peace, harmony, health and prosperity through the respect of free will of others for the purpose of collective coexistence. The core objective is to provide a logical and scientifically sound platform for the common person to understand the Laws of Creation and Existence and how to apply them consistently for a delightful life experience. For more details about ICREATE Technologies, the Genetics Of Divinity, visit online at http://www.geneticsofdivinity.com. Follow the Genetics Of Divinity revolution at http://facebook.com/geneticsofdivinity or at http://twitter.com/divinegenes or call 760-670-3320