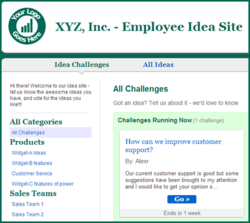 We built IdeaGlow based on requests from our customers. They asked us to build an idea management software to manage ideas from employees and customers while providing features and security essential for mid-to-large organizations
Santa Clara, CA (PRWEB) February 13, 2013
Accompa Inc, a pioneer in cloud-based Requirements Management Software, today announced the upcoming "Spring 2013" release of IdeaGlow, a cloud-based idea management software. Innovation-driven, mid-to-large companies are invited to learn more at IdeaGlow - Idea Management Software, or sign up for a fully-functional 30-day free trial: Click here to start free trial.
IdeaGlow was built using best practices from innovation process research, social networking, and gaming. It helps organizations build a "social" innovation engine to capture ideas and convert them into successful innovation. Organizations use IdeaGlow to manage ideas and suggestions from employees, customers, and partners—from capturing and fleshing out ideas, to finding and implementing the best ideas.
The "Spring 2013" release of IdeaGlow introduces many new features based on direct feedback from customers—including the ability to create and manage Idea Challenges to achieve ideation focused on top priorities.
Managing ideas effectively requires a systematic process that is easy-to-use and straight-forward. Organizations using IdeaGlow find that it is easy to deploy, and offers enterprise-quality features at an affordable price.
Organizations can set up IdeaGlow in as little as 15 minutes. They can run idea challenges focused on top priorities, and invite users to submit and vote for ideas. Organizations can then easily prioritize and act on these ideas. IdeaGlow is also backed by the industry's only 90-day, no-questions-asked, 100% money-back guarantee—now organizations can try out an idea management system without any financial risk.
Many leading companies leverage systematic idea management to save money and continuously grow in a repeatable, scalable fashion. With pricing starting at just $499/month, organizations can finally afford an enterprise-quality idea management software without worrying about hidden expenses such as hardware, IT, installation, and maintenance.
"We're proud to announce the Spring 2013 release of our idea management software," said Michael Shrivathsan, Vice President of Product Management and Marketing at Accompa. "We built IdeaGlow based on requests from Accompa customers. They asked us to build an idea management software to manage ideas from employees and customers while providing features and security essential for mid-to-large organizations."
About Accompa, Inc.: 
Accompa, Inc. is a pioneer in cloud-based software for managing requirements and ideas. The company is the first to address the need for affordable, enterprise-quality, cloud-based software for requirements management (Accompa) and idea management (IdeaGlow). Hundreds of companies, from Fortune-500s to growing start-ups, use these tools to build more successful products and services. The company is privately held with headquarters in Santa Clara, CA. Visit the following links for more information on IdeaGlow: 

Accompa and IdeaGlow are trademarks of Accompa, Inc.
###