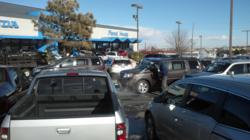 Washing cars quickly and efficiently takes practice," said Joel Shorey, President of Wash On Wheels. "Our managers spend a lot of time getting our crews trained properly."
(PRWEB) February 14, 2013
Many car dealerships like Planet Honda use an outside service for their car washing. While some have their lot techs do the washing, a professional car washing service is much faster. This offers the advantage of not having the noisy pressure washing machines running all the time.
Using a professional service also has the benefit of less time with water and soap on the lot. Doing the job quickly instead of having the lot techs do a few cars in between their other duties provides a more appealing visual presentation of the cars on the lot.
A professional car washing service can usually wash hundreds of cars in a few hours instead of days. And they bring their own equipment, removing the dealer's expense of purchasing and maintaining the equipment themselves. And the dealers don't have to deal with hiring and training additional lot techs.
"Washing cars quickly and efficiently takes practice," said Joel Shorey, President of Wash On Wheels. "Our managers spend a lot of time getting our crews trained properly."
With 27 years experience in Denver, Wash On Wheels knows how to deal with Colorado's winter conditions. They specialize in EPA water recovery and include it with their pressure washing service at no extra charge.
Wash On Wheels is Colorado's largest mobile pressure washing company. In business since 1985, they have an A+ rating with the Denver/Boulder BBB. The company's services include pressure washing commercial buildings, sidewalks, parking garages, restaurants, and graffiti removal. Their services also include car washing for auto dealers, fleet truck washing, boat cleaning and interior and exterior detailing. They specialize in emergency grease and oil spill cleanups. Wash On Wheels services the Denver metro area and Front Range Colorado. For more information, contact Joel Shorey at 303-937-7181 or visit http://www.washonwheels.net.